Here at Starttech Ventures we are deeply committed not just on fostering our own ecosystem, but also in assisting in the creation of a thriving startup and business angel ecosystem in Greece and Europe.
From creating the first Greek Business Angel Network, being the first Greek member of the European Business Angel Network (EBAN), and working with YES (Europe's young entrepreneurs organisation) to trying to influence local policy and organise events for Greek angels and startups, we never shied away from our responsibilities as a member of the Greek and European entrepreneurial communities.
That's why we are extremely proud (and quite happy) to receive EBAN's "Best European Business Angel Week Initiative" Annual Award for the Business Angel awareness events we organised in Greece last December.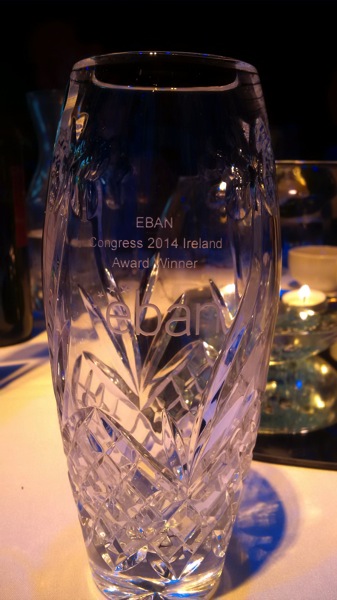 The awards ceremony which was held as part of EBAN's 14th Annual Congress held in Dublin, Ireland, celebrates individuals and organisations that have made a successful and significant contribution to the early stage investment market in Europe in 2013/2014.
As the sole Greek member of the European Business Angel Network (EBAN), we organised two highly successful events in Athens on December 2013 under the auspice of the European Business Angel Week Initiative, with the participation of very experienced international serial angels who shared their experience and insights with the Greek startup community.
Still a little dizzy from receiving the award (and the celebrations that followed), we are thrilled for the recognition of our efforts towards a mature Business Angel landscape in Greece. Of course, we can, and we will, do a lot more. We'd like to call all individuals and organisations involved to work together and help overcome our chronic cultural and policy issues and help build a thriving Greek startup and business angel environment.
Best regards from Dublin,
Dimitris Tsingos