So here we are. The Lean In EU WBA (Women Business Angels) Pitching Battles event for women entrepreneurs at the Starttech Ventures' HQ is taking place tomorrow.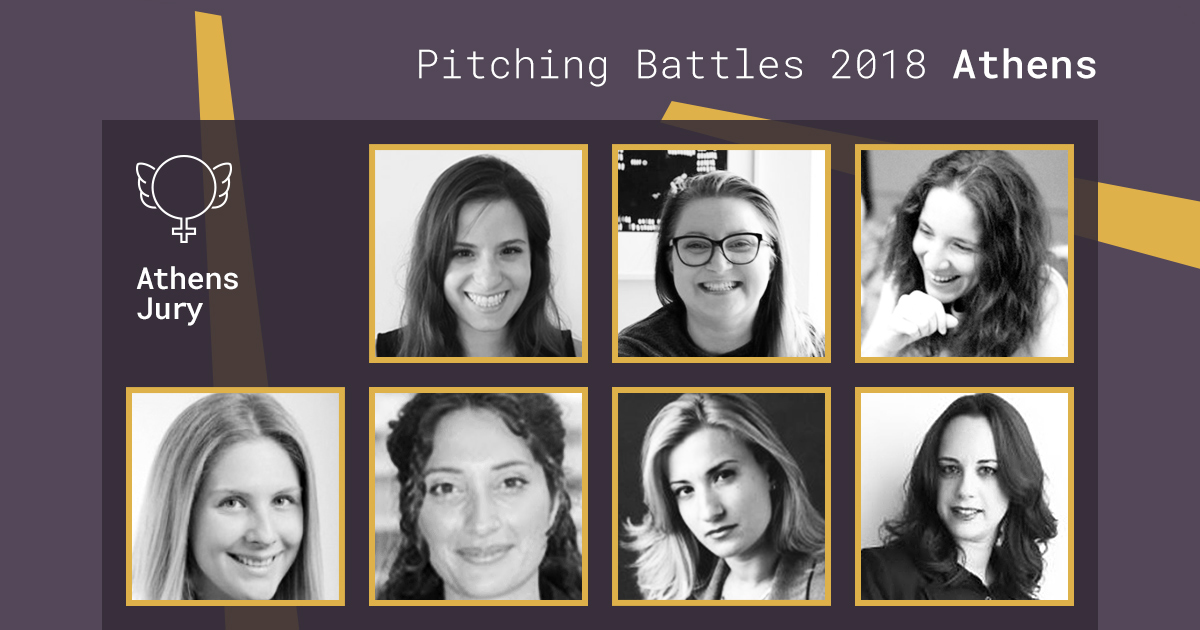 The wait is over. The pitches are ready. Eight startups will battle it out for the chance to win cash prizes from a pot of 3,000 euros, as well as mentoring, training and lean acceleration services from Starttech Ventures.
A time for women entrepreneurs to shine
The stage is set then for our selected women entrepreneurs to shine. One thing important to note, is that the Pitching Battles event is open to all. We will be more than happy to see our friends from all walks of the Greek entrepreneurial ecosystem come and join us.
Agenda
Here's a quick look at the schedule of how things will go down:
16:30:
Welcome Coffee & Registration. Introduction.
17:00:
"Fostering Innovation in Greece. The woman factor.", Spyros Arsenis, NBG Business Seeds Manager
17:20:
Introduction of investors and pitching rules:
– Flavia Richardson, Funding London, UK
– Tal Tochner, PICO Partners, Israel
– Alexandra Choli & Myrto Papathanou, Metavallon Ventures, Greece
– Marika Rella, Vector Partners, Greece
– Antigoni Lymperopoulou, New Economy Development Fund, Greece
– Myrto Sokou, Independent Consultant, London
18:00:
Pitches 1-4 (5 min pitch + 5 min Q&A for each)
18:45:
Coffee break
19:00:
"Women Act: Empowering Women in Leadership", Maria Gianniou & May Zanni, co-founders of Women Act, Greece
19:15:
Pitches 5-8 (5 min pitch + 5 min Q&A for each)
20:00:
Announcement of winners
20:15:
Networking & Farewell
The Startups who will pitch
And the pitching battle paticipants:
Group 1: 18.00 – 18.45
18:00: Parky
18:10: OneUni
18:20: VideoOculograph
18:30: DefyU
Group 2: 19.15 – 20.00
19:15: NEPHELE
19:25: KalaΘos
19:35: B2BWAVE
19:45: UKeMED
Now, all that remains is to meet the people who have the honor of judging what is sure to be a tough and exciting competition. And let's not forget those who will make important contributions in the form of business and entrepreneurial insights through their keynote speeches.
Without further ado then, here they are:
Keynote speakers:
Maria Gianniou, Co-Founder of Women Act
Armed with a PhD, Maria is research associate at Athens University of Economics and Business. She's also worked at the European Parliament. And as a scientific advisor to the Office of the Secretary General for European Affairs of the Hellenic Ministry for Foreign Affairs. She was research fellow at the Euro-Mediterranean Observatory of the Hellenic Centre for European Studies and visiting research fellow at the University of the Peloponnese, Department of Political Science and International Relations. Her work, focusing on Euro-Mediterranean relations, EU-UN relations and EU parliamentary diplomacy has been presented in various international conferences and published in several collective volumes and peer-reviewed journals. Maria also speaks Greek, English, French, Italian, Spanish and Turkish.

Spyros Arsenis, Program Coordinator at NBG Business Seeds
Leading the National Bank of Greece's Business Seeds program, Spyros was also the first coordinator of the act4Greece crowdfunding platform. An electrical engineer with 25 years of professional multi-sector, multi-discipline experience in Greece and abroad on international telecom projects, business banking and innovation, Spyros holds a PhD in Information Technology and Networks. He started his career in international IT projects as Project Manager and Senior Consultant for important organisations and is also an author of seven books on ICT and the Internet. He cites his specialities as Project and team management, back office management, and political campaigns specialist. A favourite motto of his is: "If we want things to stay as they are, things will have to change." The Leopard, Giuseppe Tomasi di Lampedusa
Pitching Judges:
Flavia Richardson, Portfolio Manager at Funding London
Working at Funding London since September 2016, Flavia is at the sharp end of the UK's startup ecosystem. Her primary role is to monitor startup investments and build a closer relationship with Funding London's portfolio companies. She tracks their growth, and provides valuable support along their way to success. Funding London channels funding from Europe and the UK to sustainable and ambitious SME's of London via designated fund managers. Returns from their investments are ploughed back into the funding ecosystem of London, making investments available to the next generation. Previously, Flavia worked in Private Equity where, she set-up of an investment subsidiary and advised on the fund's first tech investments in the UK. She has a keen interest in early stage technology venture and disruptive business models. Flavia studied LLB in Law and Human Rights from University of Essex in 2012. She also possesses a Postgraduate Diploma from London Metropolitan University which she completed in 2014.

Tal Tochner, Investment Director at PICO Partners
A female investor with the vision of helping Israeli tech companies grow globally, Tal divides her time between Israel, China, and the United States. Tal personally facilitates strategic collaborations and investments between leading global investment entities and Israeli hi-tech companies. In her role as Investment Director, she also leads the strategic partnerships for PICO Kids, the group's philanthropic work in STEM education. The "PICO" in PICO Partners stands for People, Ideas, Community and Opportunity. These are the values which drive their activities. In essence, PICO are deeply involved in the world of early stage startup investments. As their motto states "We invest in entrepreneurs as agents of progress". From their offices in Tel Aviv, Jerusalem and New York, they believe in investing in exceptional entrepreneurs looking to build future-defining and highly scalable global companies. Prior to her work at PICO, Tal was a Partner at TLVC, Israel's leading investment boutique and part of the Founding Team at WMN, a co-working space for female-led ventures. Tal holds a B.A in international relations, Asian studies and Chinese and serves as the Israeli ACCESS board-member of the American Jewish Committee

Antigoni Lymperopoulou, Investment Manager at TANEO (Greek Fund of Funds)
Antigoni has been investment manager at TANEO since 2001. She is also an independent advisor at the European Commission, and for the Access to Risk Finance Horizon 2020 since 2013. She holds an MSc in Decision Sciences and i-MBA from Athens University of Economy and Business and a BS in Statistics and Economy from the same University. She is qualified in Investment Management by the Chartered Institute for Securities and Investment and certified by the Hellenic Capital Markets Commission. She was working at the Ministry of Economy and Finance from 1999 until 2001. She speaks English, French and Italian.

Alexandra Choli, Partner at Metavallon VC
Alexandra is the founder and partner at Metavallon, a venture capital fund investing in very early stage technology companies in Greece and Europe. She has 16 years of experience in the fields of operations, business development, and entrepreneurship, and is passionate about growing innovation-driven startups. Alexandra started Metavallon.org, a model social enterprise that spearheaded the formation of the startup ecosystem in Greece, and Founder of Metavallon Ventures Limited, a micro-fund that pioneered pre-seed investments in the country. Prior to Metavallon, she worked in operations, management, and business development at several early-stage & small- to medium-sized businesses, both for-profit and non-profit, in Greece, UK, United States, Nicaragua and India. Alexandra holds a Masters degree in Mechanical Engineering from University College London and a Master of Business Administration from New York University Stern School of Business, where she specialized in entrepreneurship, social innovation, and strategy.

Myrto Papathanou
Myrto is a Partner at Metavallon VC, a venture capital firm investing in very early stage Technology Innovation startups in Greece and Europe. She has 15 years of experience in the fields of finance and entrepreneurship, and has also been involved in several non-profit projects around the world. She started her career in London, working as a credit risk and portfolio analyst for Dresdner Kleinwort Wasserstein and later as a Fixed Income Strategist for EMEA at Bank of America/ Merrill Lynch. Returning to Greece in 2007, she headed Corporate Development for CPΙ and since 2011 has been involved in technology and high-tech companies as a founder, mentor, investor and advisory board member. Before joining Metavallon VC, she served as Group CFO and Head of Corporate Development in EFA Ventures, a group active in high tech and the Aerospace, Aviation and Defense verticals. Myrto has been active in the non-profit sector, co-founding Ethelon, consulting on microfinance projects in Kenya and Nicaragua and fundraising for AFI (first microfinance organization in Greece). She is also a visiting lecturer on Social Entrepreneurship and Microfinance at VGTU, Lithuania and acts as a Professional on Campus for Social and Female Entrepreneurship at Heilbronn University, Germany. She is an economist, with an MSc in Finance from Imperial College and an MBA from INSEAD. In 2016 she was recognized as 'Leader of the Year' by Linkage Greece in appreciation of her extraordinary leadership quality and contribution to the progress of business and society.

Marika Rella
Marika counts more than 15 years in investment banking. She started her career with UBS in London, where she worked between 2000 and 2003. She covered the Building Materials & Construction and Capital Goods sectors, with her work focusing mainly on M&A advisory work and strategic analyses. Upon her return to Greece, she joined Boston Consulting Group before moving to the Ministry of Economy & Finance as an advisor to the Special Secretary for Privatisation. Marika's work there involved reviewing, evaluating and prioritising possible privatization candidates and providing support and advice throughout the privatization process. The transactions she was involved with were both equity-market and M&A based and concerned the banking and telecoms sectors. She joined Vector Partners in 2008, a corporate finance advisory boutique. In the context of using business skills for social cause, she has been involved with Myrtillo Café, a Social Co-operative Enterprise helping children with autism and is also a member of the "Diavazo gia tous allous – reading for others" volunteer group. Marika graduated from the London School of Economics with a First Class Honours in B.Sc. Economics, holds an M.Phil. in Finance from the University of Cambridge and has recently obtained a Diploma in Integrative Counselling from Athens Synthesis Center (approved by COSCA). She speaks Greek, English and French.

Myrto Sokou
With over 10 years of experience in the banking and financial services industry, Myrto is currently working as a Consultant for Private Equity companies. Her focus is on fast growing businesses and startups. Previously she was working for almost seven years at Sucden Financial, a major brokerage firm in London, as Multi-Asset Strategist, specializing in global equity markets, FX, commodities and fixed income. Before that, she worked as a Financial Market Analyst for Thomson Reuters based in United Kingdom, covering the Greek, Cypriot and French financial markets and stock exchanges. Myrto holds a Bachelor degree BSc in Business and Economics from University of Macedonia and a Master degree MSc in Financial Services and Marketing from the University of Exeter, United Kingdom. She is a Member of the Chartered Institute of Securities and Investments (CISI) after holding certificates in Investments and Advisory.
The Pitching Battles Jury is in!
was last modified:
January 9th, 2020
by