It's difficult to find a quote to sum up the fascinating relationship between language and culture. The bottom line, though, is learning. Forever. And as we know, entrepreneurs dig lifelong learning. That's why here at Starttech Ventures we try to give our people every opportunity to do just that.
"If culture is a house, then language is the key to the front door, to all the rooms inside."
― Khaled Hosseini, And the Mountains Echoed
Apart from our 300-and-counting book titles in our open library, we also focus on activities that promote personal and professional development. One of them is our foreign language groups. These are especially for young entrepreneurs and startuppers.
But apart from valuable classroom time with our favorite teachers, Effie Kyrikakis, Vasiliki Theodoropoulou and Anzula Vasiliu, we decided to take a recent trip to Spain. The idea was to offer our Spanish learners the chance to use their newly-honed skills with the locals, and then some!
Language lessons & lifelong learning at Starttech
If you're into lifelong learning there is nothing better than learning a new language as a first port of call. Or even two (or more if you're up for it). At Starttech we offer all of our team members and portfolio companies' team members the chance to learn English, French and Spanish – in addition to a whole load of other perks.
And as the title of this blog post denotes, a small team of us had the chance to get out of the classroom and travel to Spain for a week last month. As you may expect, the Spanish language learning group embraced the opportunity to get some real Spanish-practicing. Eight people from Starttech, Yodeck, Psycholate, Pakia and Epignosis – together with their teacher Anzula – traveled to Madrid, Valladolid and Salamanca to give some real meaning to these courses.
No other languages allowed!
So, let's get a glimpse of what they shared with us concerning their trip. First and most importantly, everyone agreed that they would speak only in Spanish as soon as they got into the airplane. Now that's dedication for you! And this is exactly what they did, according to Maria Logotheti, Customer Support & Training Associate @ Epignosis: "You could tell, from the moment we stepped onto the plane, that we were determined to learn Spanish, as we took out our notes and started reading and testing each other's knowledge"
A taste of Spain for the rest of us
If you want to get to know a city, they say you must walk all over it. And so step by step our Iberian adventurers explored Madrid, Valladolid and Salamanca in detail. All without a single complaint, or so they told us!
"Spain is an amazing country, with cities full of remarkable architecture, buzzing with life from early in the morning till late at night" said Nicolas Zourbakis, Software Developer @Pakia sharing his enthusiasm and added:
"One thing that actually impressed me the most, was the similarity between our two countries. The Spanish are cordial people, full of energy and excitement and they share our ceremonial habit of getting together with friends, just a for little while, over drinks (coffee in our case) in order to talk about the long day they had."
Enjoying museums such as Reina Sofía in Madrid where Guernica, the famous Picasso painting is, and visiting places such as Plaza Mayor where Columbus died, they had the chance to do a little bit of everything.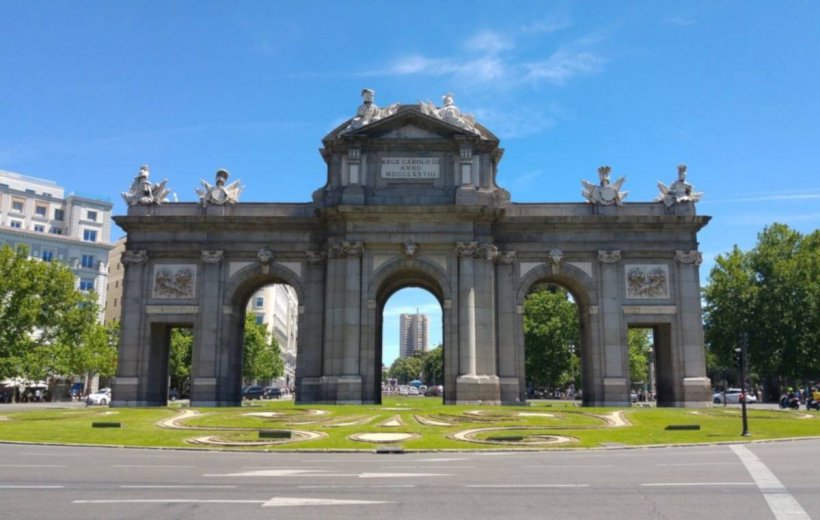 The team was fully prepared to give Spanish-practicing a great shot. Because back to school is cool, of course! They didn't just wander around as tourists. They also gave their endeavor a more formal educational meaning. And so apart from wine-tasting and tapas savoring, our fearless travelers also visited the University of Salamanca.
Anzula had already scheduled for her team to attend a Spanish course there. "The teachers were fantastic, delivering the class only in Spanish with very few exceptions," said Maria. And, as Angeliki Soltatou, CMO @Pakia shared with us: "It was quite weird and fun doing this together, since it's been so many years since the last time I attended a university class as a student."
Making the most of it
What's the secret to getting the best out of a trip like this. Location, location, location is the answer! And sprinkling it with a few classes in those appropriate places. Like Maria says: "If you want to learn Spanish go to Valladolid. They have a nice pronunciation for amateurs like us. Also, Salamanca is a beautiful city with ornate sandstone architecture. Very much known for the University, which is a great example of Renaissance architecture."
Nicolas added: "The most fond memory I acquired was the scenery outside the university in Salamanca with a small square full of grass and trees for the students to relax and take a fresh breath from the stiffness of the class"
Apart from their travelers tales, we also put one last question to our team of Spanish adventurers. Something like a testimonial of this type of language-learning-trip for any future language practicing trips.
And that question was: How does it feel to get the chance to travel to a country with your colleagues and practice the language?
Here are the responses
"It feels just right! It's the perfect combination: learning and leisure. It's an opportunity to reinvent your colleagues' personalities; get to know them better and have fun as well as learn altogether. I feel that we are more connected now!", says Vasilis Depastas, Business Development Manager @Yodeck
"I thought that traveling with colleagues was a little bit risky but I was proven wrong. We laughed, we talked and got to know each other better," adds Angeliki Soltatou, CMO @Pakia.
Nikolas Zourbakis, Software Developer @Pakia had this to share: "Sharing this unique experience with people from your work environment has a meaningful impact in improving your relationship to them. Labels change and "that guy next to the window" becomes "George who likes to do this and who is good at that and can help me with this…". This kind of bond helps develop a culture of trust and is difficult to replicate and gives a whole new meaning to the phrase 'going to work'."
"Travelling with your colleagues still remains one of the best ways to bond with the team. Travelling to Spain with them to practice the language is certainly more efficient and fun!", says Maria Logotheti, Customer Support & Training Associate @ Epignosis.
"Overall, the trip to Spain brought us closer together, not so much as colleagues, but as friends and co-travelers.
The fact that we were given a chance to practice our Spanish, after only a few months of lessons, may have seemed intimidating at first. But that was definitely not the case when we were actually in Spain.
I think I speak for everyone when I say that, the trip gave us a much needed confidence boost. Especially, since we found out that we knew enough Spanish to order beers and tapas! Jokes aside though, the trip was a great way to visit not one, but three Spanish cities. And to share experiences and laughs with my colleagues. Which I'm sure that we'll carry on talking about for years to come!", Kelly Paschalaki, Customer Success Manager @Yodeck.
You travel, you learn
It's clear that living offers learning by default. Traveling, while also learning, helps you double up on the whole learning experience. At the end of the day, it's another form of pushing your limits; getting out of your comfort zone, or throwing off the shackles. Whatever you want to call it.
One of the easiest – and most fulfilling ways – to indulge in lifelong learning is to learn a second or third language. And then to travel or – better still – live in the country of which you're learning the language.
Here's to more adventures like these, to continue that mission of lifelong learning!
Iberian adventures: what we discovered about lifelong learning in Spain
was last modified:
June 6th, 2019
by