Running startups, running procedures and running for the sake of running. At Starttech Ventures we love running. And we don't miss out on chances to run within Athens or even far away from the city, too. We see running as an opportunity to have fun and spend quality time together.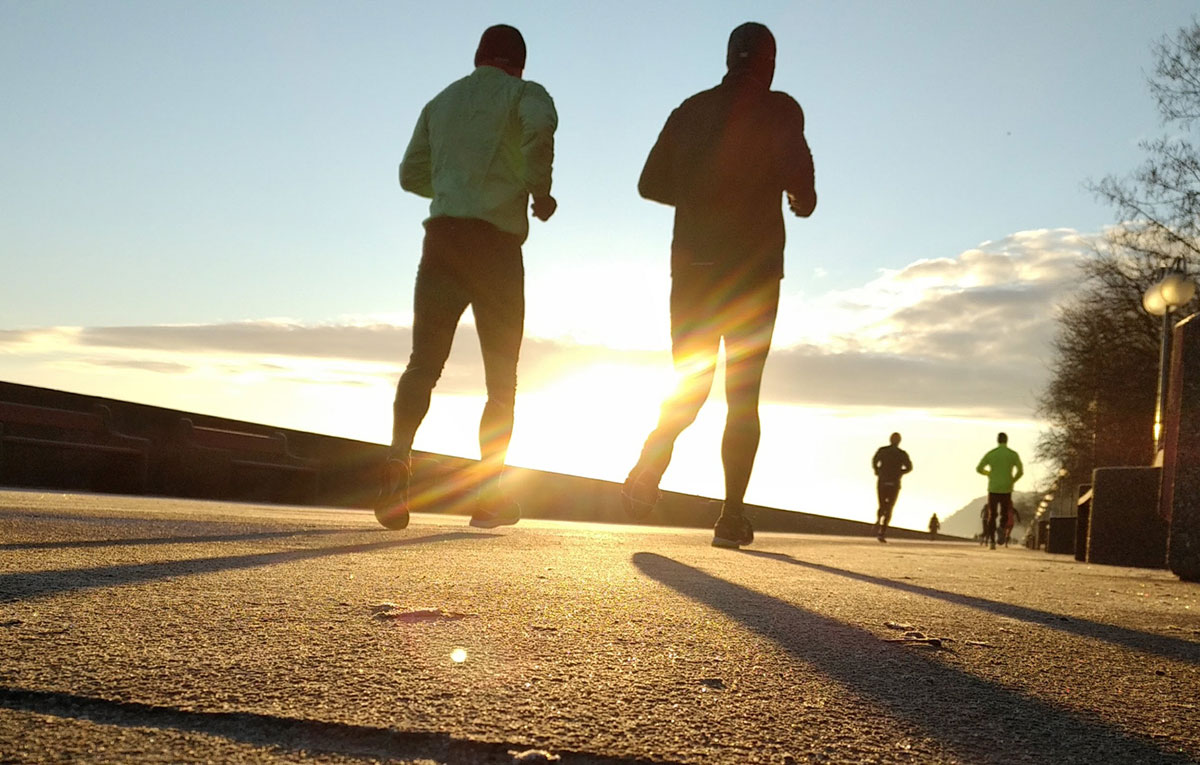 So, here we are once again, to give you all the details of the running ventures we're so proud of.
Thessaloniki Run
It was the first time our team took part in this race. Some of us traveled to Thessaloniki to take part in this amazing race event; an almost a last-minute decision that was really worth it. And here's how it went down:
It was almost a month before the race when one of us came across the announcement. Note that we are all on the alert for new running events and opportunities, to run to together and have fun. Once the idea was popped into our Slack channel (yes do have one for that purpose) the challenge was met with excitement. So, a dozen Starttech Runners booked their tickets and made arrangements a cozy Airbnb accommodation. When the big day arrived, with their new Starttech Runners t-shirts already packed in their backpacks, the team headed straight to the airport, to catch a flight to Thessaloniki.
A great experience
Here's what our representatives shared with us, as soon as they got back:
"One of the nicest weekends we've had with colleagues outside the office. We got a chance to spend some amazing time with each other outside the office and enjoy ourselves. It was a weekend full of memories and nice experiences. We visited the castle and upper town of Thessaloniki, tried the local goodies, danced so much that the half-marathon we had just ran was nothing in comparison 😊
In a nutshell, fun, sports, food, bonding!", Vasilis Depastas — Business Development Manager @Yodeck
"It was a great experience, a trip to a city I love, with people I spend most of my time with! Outside the office, everything is different! When you run, eat, drink, dance and share a few jokes with a colleague, you bond! Spend a weekend with your colleagues, and they will become your friends. Run away with them 😊", Maria Logotheti — Customer Happiness Specialist @Epignosis
Athens Marathon 2019
Well, we don't need to explain further the reasons behind our team's participation in this wonderful running event. Athens Marathon is one of our favorite running events and, indeed, our team's top preference when it comes to running. Last year, seven of the bravest Starttech Runners participated in the original race, running the whole 42.195 km race. This year, ten of us took part in this great running event. Some of them shared their experience with us:
"Last year, we ran 42 km, and I said I would not like to try this again. It was kind of a "one-time thing". This year we run 5 km and it was fun. But you could tell that something was missing. I was running with no purpose. And at that moment I realized that I am "doomed". I caught myself thinking to run the 42km in 2020. Anyone wants to join me?",  Maria Logotheti —Customer Happiness Specialist @Epignosis
"No matter how many times you cross the finish line at a running event at "The Stadium", it feels like it's the first time; and it feels very special. This year marked the fifth time in a row that I took part in one of the running events scheduled for this day, the Marathon Day. This year, the two smaller events, the 10k-race and the 5k-race were scheduled on different days, thus making it very enticing to cross the finish line twice at The Stadium. Why miss on the fun, when you can enjoy double the fun. Looking forward to more people getting inspired to cross the finish line and enjoy the excitement.", Evangelos Papanikolaou – Scrum master @Starttech
37th Athens Health Race
Another racing event for our team. Which is actually the latest participation of ours. It was the last Sunday of November that a few members of our Starttech Runners team were there to represent our team in that race. And here's what one of them, the Scrum master of our team shared with us:
"Getting up on a Sunday morning for yet another running event with the team never actually becomes … a habit. However, the reward(!), crossing the finish line, helps you focus in order to get yourself going.  As a matter of fact, it is rewarding when you realize that there is a larger group of like-minded people, an ecosystem, who get enjoyment out of these events.  What goes unnoticed sometimes is the group of volunteers who help make these things happen and cheer on the participants. Us, runners, get rewarded by finishing the race, while them, volunteers, get rewarded by giving them a high-five. So, next time you run by one of the volunteers in a race, remember to thank them and give them a high-five.", Evangelos Papanikolaou – Scrum master @Starttech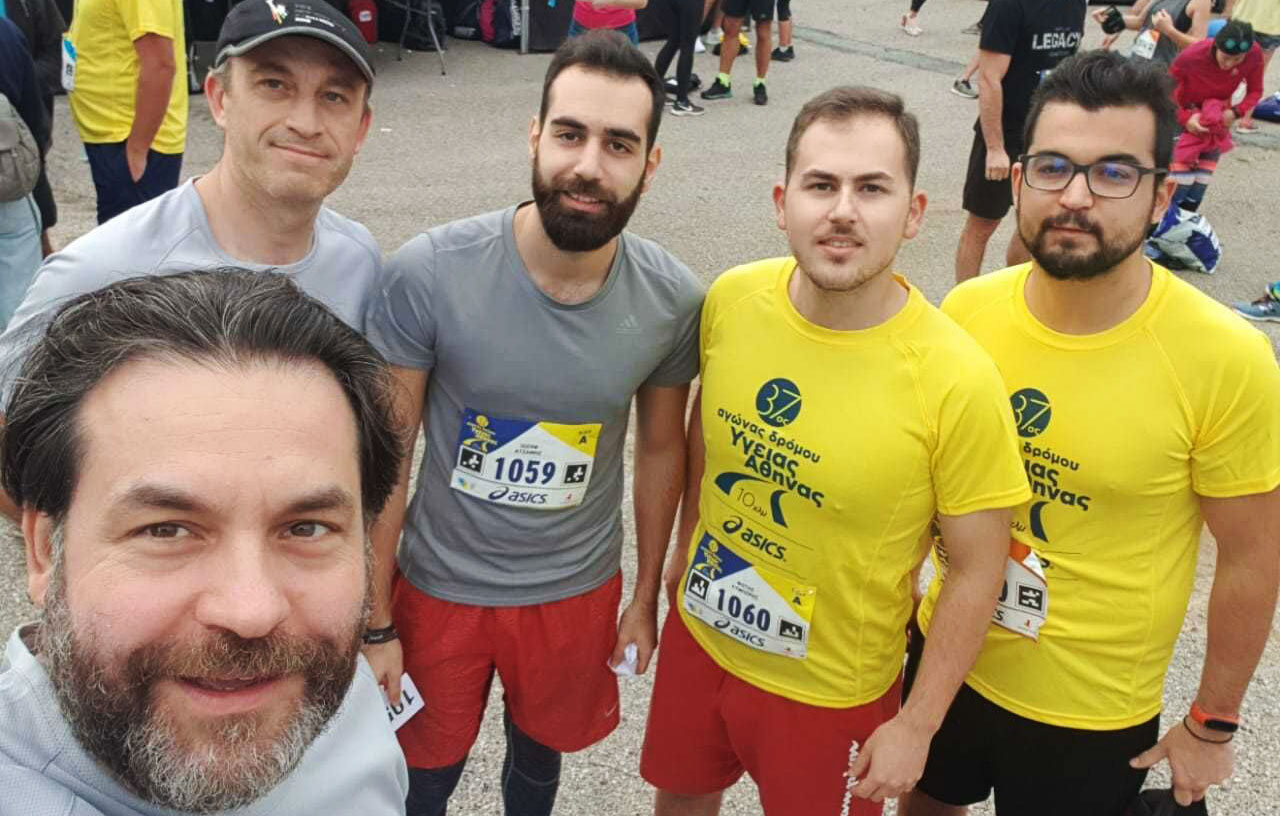 Last but not least, two members of our team, Vasilis Depastas from Yodeck and Leonidas Paleokostas from Epignosis went the extra mile. They traveled to Nafplio the same day, to run for the fun of it.
Well done to all of them!
As you can see, we can't stop ourselves from running. And we're not alone in this effort.
Our coach, in the wings
As we do with our startups – offering them all the guidance they need to grow –we do the same for our running ventures. Aris Myrkos, founder of ScienceTraining.gr and leading triathlon/marathon coach is also our personal coach and endurance trainer. With his guidance, our team is ready to run with safety — any race each one of us prefers, based on our personal free time.
So, what do you think?
Want to join our Starttech Runners team?
If running is your thing then check one of our job openings. And if one of them matches your skills and your interests, then you may apply and join our team. Feel free to apply, even if you don't run/like running. We'd love to have you on our team! 😊