We have to stop meeting like this. Well, no actually, it's imperative we keep meeting like this. What am I talking about? Scale Up Greece of course! Session #3 is coming up on August 28th at Workable, so save the date!
Whatever stage you are at in your startup venture, even if you're still at the brainstorming stage, get yourself along to Workable's HQ in Athens from 19:00 – 21:00. Join us for what we expect to be another productive session, full of questions, answers and insights.
Scale up stories and #ScaleUpGreece
For the uninitiated, #ScaleUpGreece is our tribute and response to Greece's status as one of Europe's growing startup and scale-up hubs. But it's not only that. It's also designed to be a community for anyone interested in the local (and global) entrepreneurial ecosystem, and Greek startups.
After the success of our inaugural event in January, where Epignosis told us all about their exciting scale-up success story, we then went over to hear from Insurance Market, an inspirational startup in the FinTech arena.
And now it's the turn of one of the country's scale-up superstars, Workable.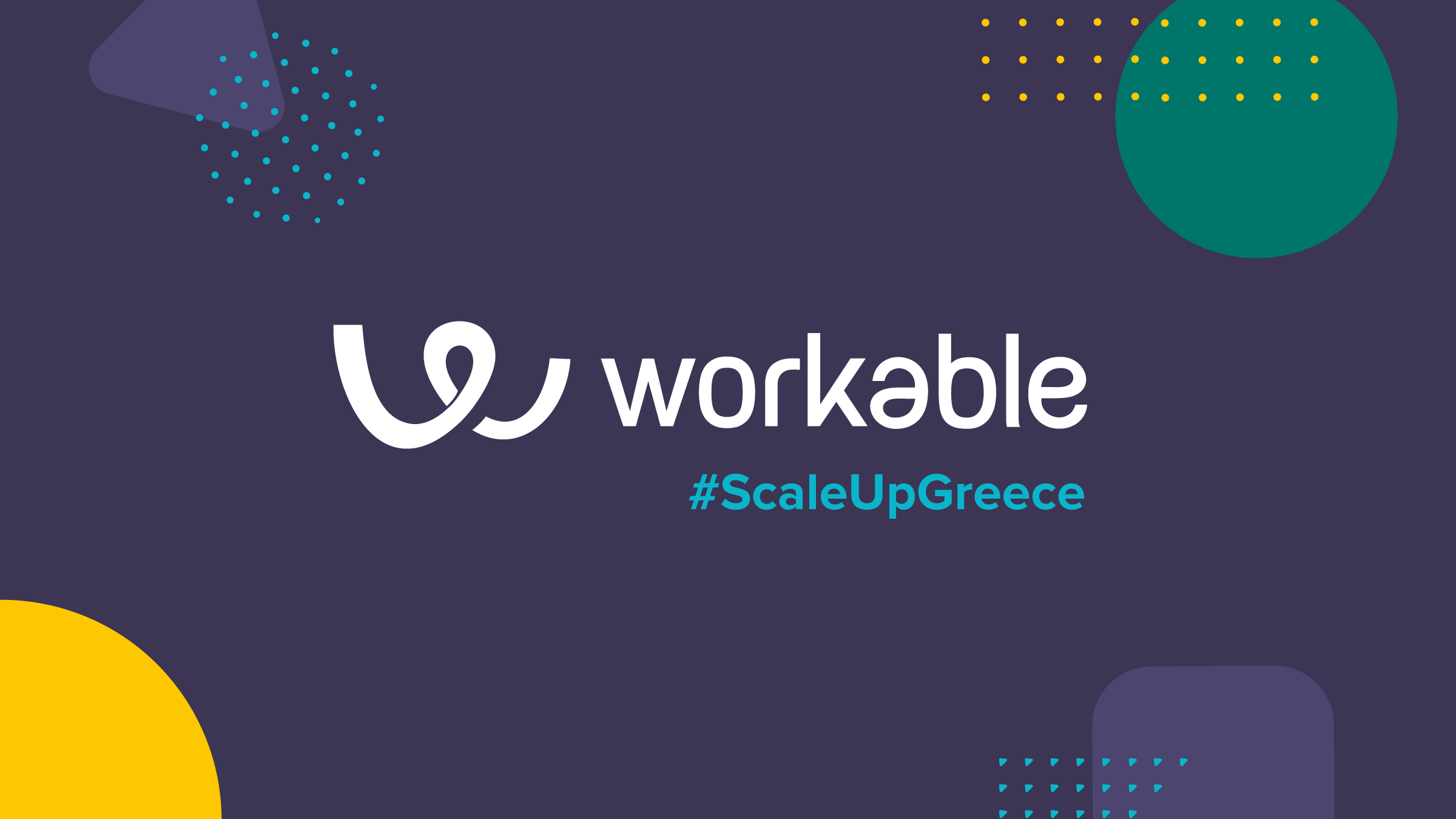 About Workable
Workable is the world's leading hiring platform. They provide in-house recruiters and hiring teams with more ways to find more qualified candidates, and help them work together to identify and hire the best. Companies who use Workable software get from requisition to offer letter faster, with automated and AI-powered tools that source and suggest candidates, simplify decision making and streamline the hiring process.
Workable was founded in 2012, and has since helped more than 20,000 companies hire one million candidates. They employ over 250 people across Greece, Australia, the US and the UK, and work with a diverse group of organizations, including HireVue, JOEY Restaurants, Bevi, Soho House, RyanAir, Sephora and many more.
What to expect
As usual, we're more than a bit excited about this event. We hope to get a bucket-load of insights about Workable's enormous success.
And we've got a few good reasons to do so. As we've mentioned before here in our blog, we want to dispel common misconceptions that place funding and state of economy to be the major and determinant factors for startups, or even small to medium businesses' success.
More than that, we are aiming to replicate something we do within our startup ecosystem here at Starttech. And what's that? Focusing on making the best out of our open space and encourage our portfolio companies to learn from each other. Knowledge transfer is really important but it's experience transfer that brings real change and success.
As we all know, not all startups are made equal. They might target different types of markets, have different products, different business models and the list goes on. But, when it comes to problems and challenges, they have a lot in common.
It takes innovative thinking, inventiveness, endurance and many other virtues to reach profitability and continued growth and success that being a scale-up brings. And that's why we need Scale Up Greece – to open up our startup community here in Greece.
See you there!
The event is open to everyone. All you have to do to take part is sign up here. Three more words then. Scale Up Greece!