The World Business Angels Investment Forum (WBAF) brings together the best European SME, public and corporate early stage market players in collaboration to improve the global entrepreneurial landscape.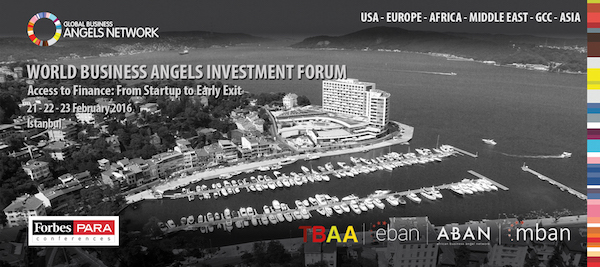 This year's forum is presented by the Global Business Angels Network and organised by EBAN (The European Trade Association For Early Stage Investment Market and Business Angels), MBAN (The MENA Business Angels Network), ABAN (The African Business Angels Network) and TBAA (The Turkish Business Angels Association), and will take place in Instabul, Turkey over a 3-day period (21 – 23 February), and is sponsored by Borsa Istanbul, TEB Bank and ITU Teknokent.
The event, whose main focus is facilitating SMEs and entrepreneurs' access to finance, will have important players from the world's major business angel investment ecosystems joining forces to develop new financial instruments to help with finance and liquidity for entrepreneurs, SMEs, innovators and start-ups all the way up to the early exit stage.
In the course of the forum, entrepreneurs from around the world, public authorities, angel investors, venture capitalists, executives of stock exchanges, and representatives of financial institutions will discuss what can be done to better connect the early stage market ecosystem, necessary regulatory and fiscal changes, and ways to create better understanding and confidence for angel investors in approaching the public markets.
While the event's final program is still to be finalized, 2016's World Business Angels Investment Forum already has several distinguished speakers confirmed so far:
• Jonathan Ortmans, Founder and Co-chair of the Global Business Angel Network (GBAN), President of the Global Entrepreneurship Network (GEN) and Kauffman Foundation Senior Fellow, will deliver a keynote speech on the future trends of angel investment and the global entrepreneurial ecosystem.
• Anthony Gardner, US Ambassador the European Union, who will give a speech comparing the US and EU entrepreneurial and early stage investment markets.
• Mehmet Simsek, Deputy Prime Minister of Turkey, who will outline Turkey's engagements and action plans for the global entrepreneurial trends.
The event will also include talks from the presidents of business angels associations of more than 20 countries, all in all featuring more than 50 speakers, panel discussions, workshops and EBAN Institute trainings.
Last, but not least, StartTech's very own Dimitris Tsingos, in his capacity as Co-Founder of the HeBAN (Hellenic Business Angel Network), will be discussing "How to connect the early stage investment markets of South East Europe with the global markets" along with other prominent Angel figures from the region.
Tsingos will also serve as a jury member for the South East Europe based startup pitchings.
For registration, or to get more information about the event, please visit the official website.
World Business Angels Investment Forum (Feb 21-23, Instabul)
was last modified:
September 19th, 2018
by