Christina Papadodimitraki is a software developer and member of the In.pruv app team, who won the Dream Team award at Startup Weekend Heraklion on Nov 3-5.
The waiting was killing us. My heart was beating so fast as the judges filed onto the stage ready to announce the winning teams. In just a few moments, we would find out that we won the Dream Team award at Startup Weekend Heraklion.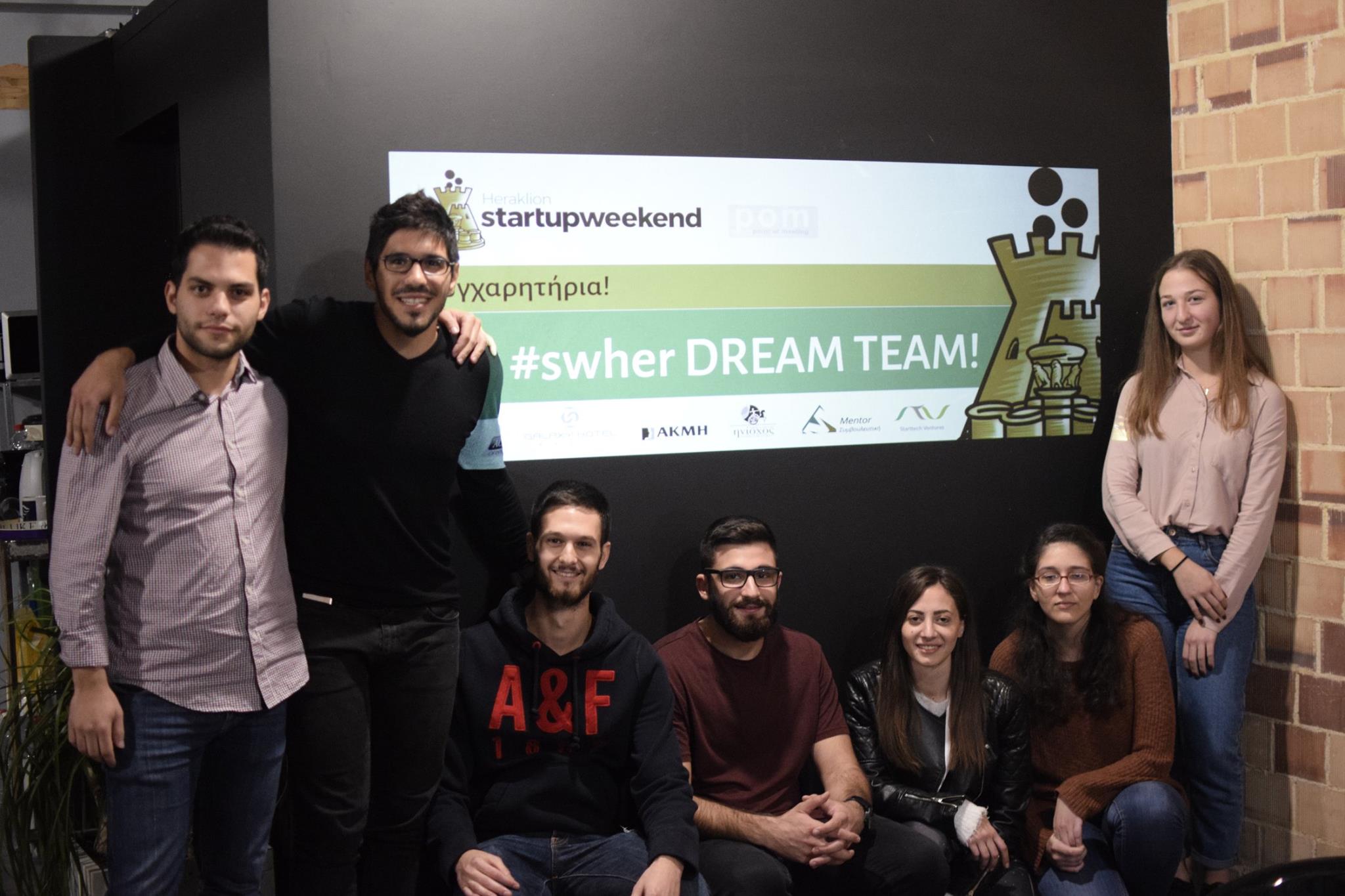 Yes, yes, its us! What a moment! Two-and-a-half days of hard but exciting work reached an amazing climax. We took home the Dream Team award, which means a designated work space at pom for the next three months and access to mentoring hours and support.
Startup Weekend Heraklion: view from the winners circle
Our idea and application, In.pruv was conceived, built and pitched all in one unforgettable weekend in the beautiful city of Heraklion in Crete. In a nutshell, the idea for In.pruv challenges how people can battle their phobias using Virtual Reality. A simple idea to address a real problem, providing a useful and doable solution. I think this is what swayed the judges in our favour.
Although it sounds cliche, despite winning the top prize, I feel that everyone at the event was a winner. There was just so much energy, enthusiasm and talent at this first-ever gathering of its kind for young entrepreneurs and investors in Heraklion. And it was excellently organised by the team at pom coworking space.
Redefining teamwork
For me, the moment I knew that we won the award, a realization hit me that just two days before we didn't even know each other. But in the time we were together I redefined my idea of the concept of teamwork.
Over the two days, we managed to learn new things, set goals, questions, discuss, agree – and disagree of course! Young people of different ages, with different interests but with the same goal. We really focused on the idea and "locked" ourselves away in a glass office at the venue. We were pretty good at managing our time as a team and this was a key factor. By doing this we still had time for networking and relaxing when it was necessary.
Opportunity for networking
During the event, apart from meeting many talented participants, we were also able to meet businessmen, business mentors and entrepreneurs people. All of which were well-known in their fields. This is something you don't get to do every day so we made the most of it.
Each and every encounter we had with them at Startup Weekend Heraklion provided us with solutions and even more questions to explore that maybe we had not thought about.
Thanks and we want more…
And that just about sums up my and the In.pruv team's experience. Definitively a life-changing one! On behalf of our whole In.pruv team (Christina Papadodimitraki, Konstantinos Dimakis, Evgenia Chatziantoniou, Theo Lithoxopoulos, Spiros Zermalias, Manos Siganakis, Anna Maria Alogdianaki), I would like to say a huge thanks. To the volunteers, the organizers, the judges, the mentors and all participants for the opportunity given to us by the Startup Weekend Heraklion. This was an amazing platform to help us turn our idea into reality through all the services, experiences and acquaintances we made.
The institution of StartUp Weekend Heraklion has only just begun!