Learning. It's a lifelong pursuit for all of us. We never stop. And in my humble opinion that can only be a good thing. 
And it is this very concept which is central to the strategy of one of the jewels of the Starttech portfolio, Epignosis. Best-known for its flagship Learning Management System TalentLMS, Epignosis in a pioneer in the field of online learning solutions for businesses large medium and small.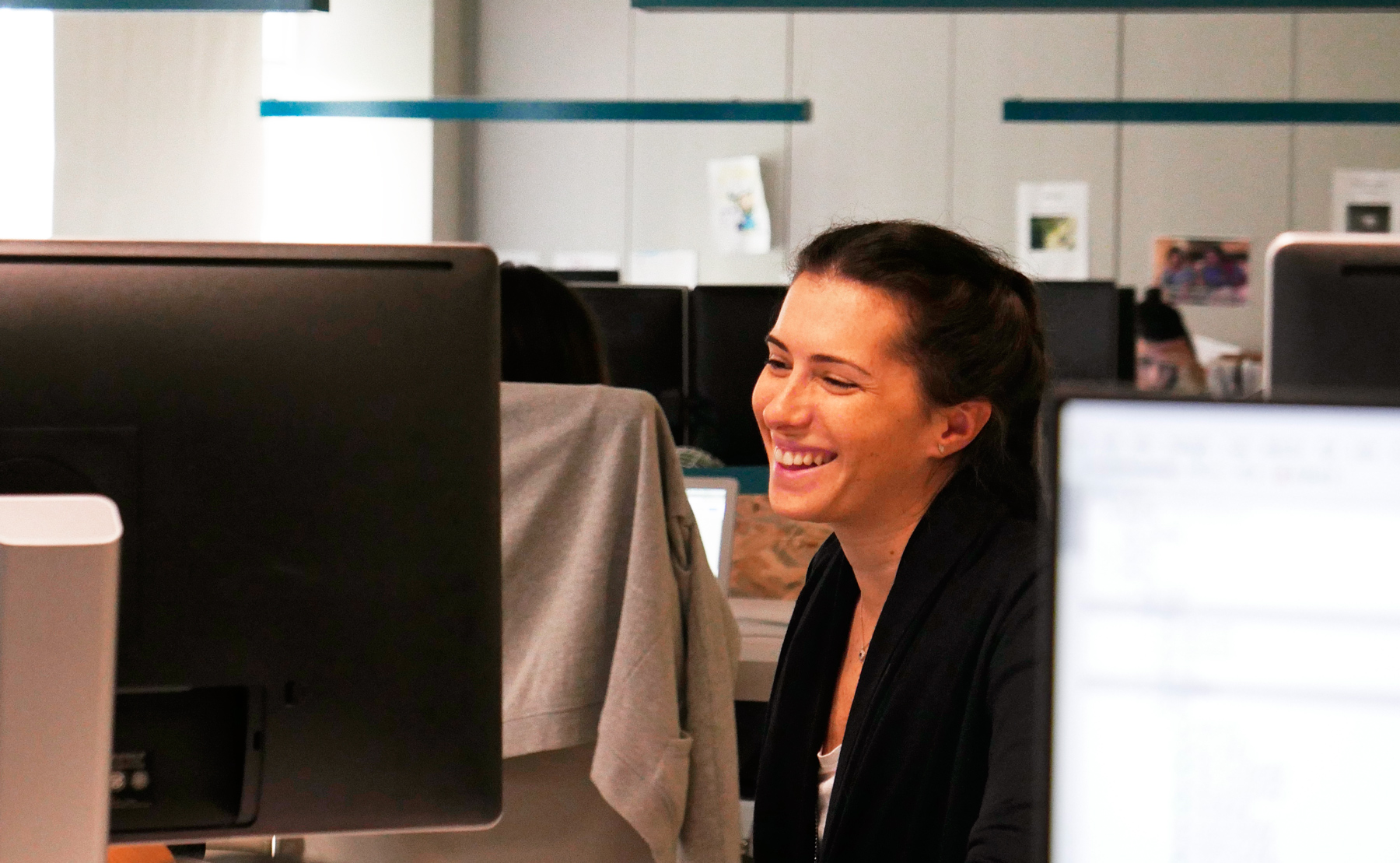 But don't just take my word for it. Read this week's Startup life Q&A series, and learn all about it from Elena Leandros, Epignosis' extremely talented and super-friendly Marketing Manager.
Q1: So Elena, how would you describe life working in the world of online learning?
Things move at a very fast pace as its industry that is rapidly growing. Apart from the market itself, digital marketing is an area that's evolving by the day too, so keeping up with all the new trends and practices is important. Keeps me [very] busy would be a simple way to put it.
Q2: What do you enjoy most about your role?
Working with a great team of talented people surely makes the ride a great experience.
Also the fact that every day is completely different to the previous one keeps you on your toes. As a team we're curious to try and experiment new campaign platforms or marketing initiatives and the best part is when you see a positive impact on the business.
Q3: Epignosis has been in operation for 15 years now. Are you officially a scale-up, rather than a startup? What steps did you and the team take to help the scaling up process so far?
We're definitely in the scale-up stage, I'd say we've been over the start-up phase for quite some time now.  Not sure if I can describe the process in actual steps, but I believe there are a few factors that have played an essential role in scaling up the business. Putting procedures in place on every level has helped to set the foundation from an organizational stand point. Secondly, from a marketing perspective identifying the activities that have brought the business forward and devoting more of our efforts and resources on those has been crucial.
Q4: Your flagship product Talent LMS, which recently celebrated its 5th birthday, is enjoying great success. What have been the key factors in making it a big hit?
I think having had a holistic approach to the business has been key to its success. We are strong believers of putting our customers in the center of everything we do. We considering their feedback, evolve the product based on it, and create our marketing strategy around it. Also, being committed to our mission to democratize learning by making premium eLearning technology accessible and affordable to any organization worldwide with products that are easy to use and provide excellent customer service. Having our customers justify it though is where the true value lies and this is shown from the thriving product reviews TalentLMS has received across the web.
Q5: I imagine it's difficult for many HR managers to convince their superiors to purchase certain learning tools like Talent LMS. The benefit for the company and the employees is often weighed up with the cost and put to one side. How do you and the team solve this issue?
Oh the benefits are endless and the good part is that they can even be measured and tied in to each organizations' goals & objectives. To top that, TalentLMS has been ranked as the most affordable LMS in the market by Capterra combined with the fact that it is a robust full-featured LMS, should make it an easy choice. By the way, we also recently created an infographic to tackle exactly that: "How to convince your boss you need an LMS".
Q6: Great. Now, how about some other maybe less obvious pain points and challenges. What makes your life difficult at work?
Let's leave this one out, hard to say answer it in a diplomatic way. 😛 (ah the emoji. Always there to provide a diplomatic response – Ed)
Q7: When you're not helping to spread the noise about Talent LMS's brand awareness and helping bring in customers, what do you like to do?
Travelling, reading, watching TV series and spending time and training my dogs – unfortunately we don't have a product for that yet 😛
Q8: Which tools do you use daily and do you have any secret tips and tricks, which boost your success rate?
There's no one tool that can help a company. We use more than 50 different tools and the list keeps growing but no single tool alone can shift a company's trajectory. We use different tools in combination to analyse business data better, to promote our products, to make internal communication and collaboration more efficient and ultimately save time altogether.
If I'd have to name my favourite one it would have to be Microsoft Excel (I know it doesn't sound very exciting) and my tip would be to get proper training on it, it can really work magic!
Q9: Are there any other productivity and/or work-life balance tips and hacks you'd like to share with us?
That's a tough one as I'm still trying to crack that myself! (well, sometimes when you feel like there's not enough hours in the day, you could try the back to school mentality. If all else fails, just laugh your way there. 😛 – Ed)
Q10: What would you say to anyone considering getting involved in a tech-based startup or scale-up?
Go for it! (hell yeah! – Ed)
Q11: Intriguing stuff. Now, time for a few quick fire questions. What's the last message you sent on Slack (we want the truth – Ed)?
It was an emoticon reply to a funny meme a colleague sent
Q12: Who's your favorite TV character and why?
I guess it's a bit of a cliché and old school now but it would have to be Ross from friends (I guess the reason is because he's the intelligent, sweet one? – Ed)
Q13: Brownies or waffles?
With desserts you need to be more specific, is it just plain waffles or is it something like waffles with vanilla ice cream, melted warm chocolate and topping of nuts? If so, I'd definitely go for the waffles option (you really like waffles don't you? – Ed).
Q14: When was the last time you did something for the first time?
About 1 month ago (you woman of mystery you, leaving out what "it" was – Ed)
Q15: What's the best example of marketing you've ever seen?
Mailchimp.
Q16: And you're favorite reaction MEME or gif, and when do you usually use it?
When something's funny, it's this one:

Q17: Back to the more serious stuff, what are your top work-related (or non work-related) book recommendations?
I really liked Predictably Irrational by Dan Ariely and would definitely recommend reading the book or watching his videos!
Q18: If you could start your own business/startup, what would it be (it's OK, you can tell me I won't steal it or tell anyone about it – Ed)?
A drone delivery service.
Q19: If you had 60 seconds in an elevator with an investor what would you say to persuade them to invest their money in Epignosis?
Education is changing… Day by day. From paper to projectors and visual aids to the computer and the mobile screen. Technology is what drives that change and we at Epignosis have mastered the art of predicting the industry's next steps. We're a fast-growing company with thousands of customers operating in a $5B industry (OK, where do I sign? – Ed).
Q20: Finally, you're stuck on a dessert island and you can have only music or movies, but not both. Which do you choose and why?
I'd say movies, they last longer 😛
Thanks so much Elena, it was a pleasure. I'll leave you to get back to fantasizing about waffles.