Season's greetings! In case you missed it, a few weeks ago we ran the 2nd webinar of our latest initiative. "Work in Greece" is an open call for talented people from all over the world, interested in working at one of our tech startups. What we're trying to achieve with this strategic decision is build a community of talented people that would be happy to work in one of the companies of our organization.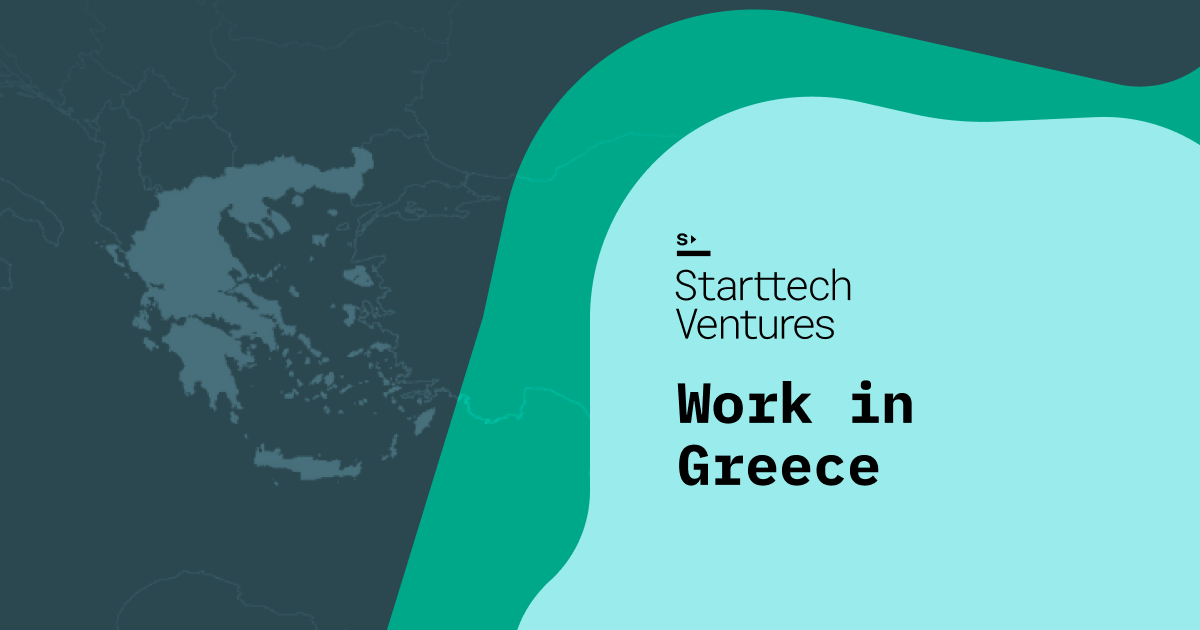 This second session on opportunities to work in Greece drew participants from Lithuania, Turkey, Amsterdam, Hamburg, India, among others. Thodoris Panaritis, training specialist at Epignosis, kindly facilitated the webinar flow; helping attendees participate in polls that warmed up the discussion, so that our panel group could answer all pertinent questions. We're confident we managed to help attendees learn more about this strategic and mutually beneficial decision of ours. 
In what follows, we'll give you a summary of the key points discussed, so as to help people already aware of our initiative learn more about it. Before that, allow us to first give you a few details about the introductory part that was equally interesting.
The idea behind the Work in Greece initiative
As Starttech Ventures founder, Dimitris Tsingos, explained:
"Our entrepreneurial philosophy is based on the human element. We want to know if our team members are happy or sad so we can do something about it. But we're very flexible. We have remote policies because we want to build a truly international organization. And, thus, we'll be thrilled to welcome professionals from all over the world to our headquarters in Athens."
Recruiting talented people from around the world is becoming increasingly important to our portfolio companies.
Our companies in numbers
Our startup ecosystem is steadily growing. Epignosis is the largest company in the Starttech Ventures ecosystem and is currently on the scale of 200 people. Yodeck is also growing fast and is on the scale of 60 people. The rest of the organization consists of many small startups of a combined total of 40 people. We also have more than 10 nationalities in our teams; and we're open to anybody interested to join one of our companies, no matter where they come from.
Hiring from abroad has been a great source of diversity for Yodeck, according to V. Mihalopoulos, CEO at one of our portfolio companies. Yodeck has been on the upswing the past four years and has already done a few hires from abroad. Some of them work remotely, while others have already relocated to Greece.
"The diversity part is very interesting, because beside the typical sense that diversity sparks innovation, allows for more inclusivity and so forth. For a company that sells internationally, like ours, it's critical to have diversity in people, so as to build products and services for the international market. Right now, we have 5 or 6 different nationalities on our team and that has helped a lot."
The role of the Greek government in helping startups incorporate global talent

The government has taken significant steps into the right direction, to further facilitate this process. During this 2nd second session, we had the chance to discus – in short – the role of the Greek government in it. Mr. M. Dritsas, Head of Cabinet, Minister of Development and Investments in Research, Technology and Innovation, was one of our panel guests; and gave us insightful information regarding the process of relocation and the contribution of the Ministry of Immigration. Among other things he mentioned the following:

"In Greece we have already set up a national startup database — Elevate Greece — and we're trying to help these companies in many ways. We know that there is a lack of a number of talents in these startups; and we're trying to find a solution around it, in terms of speeding up the process for talents that would like to come and work for startups from Elevate Greece. So, working on that background and seeing how we can adapt it for the whole startup ecosystem in Greece, we think we can achieve something in the next months."
What makes a great workplace for employees?
Well, that was a question our partner, Sohrab Fadai, Founder and CEO of Heartspace PR, posed in a relevant survey his team recently ran. And the most common answers they got from that were first the compensation along with the learning and development opportunities. More specifically, as Sohrab explained to us, the majority of respondents were interested in further building skills, like programming, within their job roles. In a similar fashion, being in an agile environment and working with others, juggling multiple projects are all interesting challenges for job seekers. Last, but not least, powerful and purposeful work that has an impact in the world is also a top priority for people in search of new vacancies.
According to Sohrab:
"The 'Work in Greece' initiative helps you achieve all the above i.e. grow within an environment that offers learning and development opportunities, as it gives you the opportunity to choose to apply to a series of companies that are actually working towards meaningful and purposeful work."
How can you join our team and work in Greece?
That was one of the core questions we tried to answer during our workshop. In particular, there was lively interaction between Starttech Ventures founders, employees already working in the ecosystem, and workshop attendees interested in learning more about the initiative. Below, we give you the key points of this discussion.
How does it feel to be working at one of our portfolio companies?
As Dimitris Tsingos explained, at Starttech Ventures we're constantly on our toes to make sure all of our employees are happy and have everything they need; especially the new entries and the ones that are new in our country.

This time, we invited a few of them to share their own stories and help webinar participants better understand what it means to be working — or getting to work — with companies of the Starttech Ventures ecosystem. Here's what they said:
Employee testimonial #1/ Kelly Parks – Channel account manager at Yodeck
Kelly came to Greece from the US and here's how relocation and joining the Yodeck team worked for her in her own words: "For me, coming from the US I wasn't quite sure what the process needed to acquire my visa and to actually make the move would be like. But the lawyers who support the Yodeck group made it extremely simple and easy."
"Being warmly welcomed into the team was amazing. Our team is like a big family, where we challenge and support each other to grow into our roles and to take on new responsibilities. This made me feel like home, right from the beginning. Relocating to Athens also offered me the advantage of being exposed to all the great things the Greek community can offer."
Employee testimonial #2 / Dan Zeevi – Android developer at Epignosis
Dan joined Epignosis two years ago, during the pandemic. He relocated to Greece working in a different field, but it was his decision to make the most of his background and his education that led him to Epignosis. In his own words:
"I'm really happy I found this amazing role in the company. And it's been a great journey, so far. The company is very welcoming. The personal relations within the company are very strong. You don't feel any hierarchy or anything like that."
Candidate testimonial #1 / Venkateshwaran Selvaraj – currently in the hiring process
Venkateshwaran is a software consultant from India, already working for a startup, building a digital platform for global e-commerce. Venkats came across the "Work in Greece" program and decided to apply. He is in the program, as we speak. As of now, the interaction has worked as follows:
"So far, the hiring process has been smooth for me. I have already taken the first assessment and I'm happy to be here. I hope I'll get through the additional rounds of the process and that I will get to be in Greece soon."
How long does the hiring and onboarding process take for someone willing to join our team in Greece?
If you're wondering what is a rough estimation of the time needed from filling out the application form to beginning to work to one of our companies, here are some clarifications from the Starttech Ventures' co-founders:

On our part, we are only in control of the time needed for the interview process. We do remote interviews with candidates, along with some tests; and then we begin the employee engagement process. The process is similar to the one we use with candidates located in Athens, but we administer it remotely. And, once there's good feedback from our team for a specific candidate, we invite them to visit Athens — covering all expenses — so that we'll do an in-person workshop. Then we give them an offer. And then the candidate starts working remotely while our legal team helps them sort out their visa issues and everything else needed. Our intention is to make sure that the whole process will be completed in 6 months.

All in all, regardless of how long the rest of the paperwork process will take, the candidate is assured that their job position is waiting for them in Athens. And not only this, we are offering a 3-year contract, so that people can feel secure they'll have stability and job security if they make the big decision to relocate.
What would be the primary advice for anyone who possibly wants to apply for one of the vacancies available right now?
If someone is thinking about relocating to Athens and joining one of our teams, they must be comfortable with using English. That is to say, they only need to be able to communicate in English; we're not looking for English language certificates. It goes without saying that they must have the required skills and the experience for the software engineering roles. And, last, but not least, they should be team players, as teamwork is one of our top values.
Do we plan to cover only tech roles with this program?
All of our portfolio startups and companies are tech SaaS businesses; thus, the majority of our open vacancies for this program concern software engineering roles. However, we're not hiring exclusively tech roles. If someone is interested in a different role, they are very welcome to check out different roles, across the different departments of our portfolio companies.
Until next time!
So that was our 2nd webinar on "Opportunities to Work in Greece"! We shall continue working on it and we'll come back with a 3rd webinar in a couple of months. Don't hesitate to share this opportunity with talented people in your network, who may be open to relocate and work in Greece. And if you're one of them, take a look at our open positions and apply to our program.
See you soon!