Hiring. It's one of the major issues every founder faces on the road to scaling up. Who should you hire? How many people? When should you hire them? And those are just the first, basic headscratchers.
More often than not, especially following the closing of a successful investment round, founders find themselves under pressure to significantly pick up their hiring pace. Accelerated hiring as we call it in practice.
It's all part of scaling up, right? Like you are obliged to hire. This is largely due to feeling the need to justify the investment raised. What's more, it usually implies hiring or a huge scale.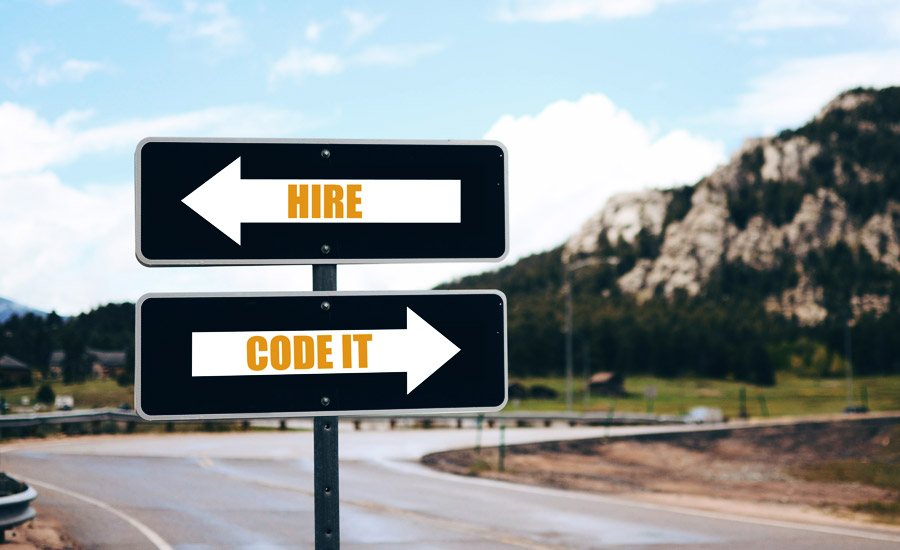 Hiring "shock"
This may seem good, but actually it isn't. Rapidly increasing the headcount of an organization generates an initial shock. It dramatically changes the dynamics of the team. Scaling from a range of having 15–20 persons, up to 70–100 is probably the most profound and painful transformation that an organization faces in its lifetime.
There must be a (very, very) good reason to put the company through such a process. But guess what? Most, if not all, of the time, no such exceptional reason exists.
Accelerated hiring then is a waste of money. Not only that, though. It gets even worse, because it creates problems with day-to-day operations as well as admin overheads without evident reason — and for sure, without creating value.
Hire with caution
For handle with care, read hire with caution. As Jason Fried and David Heinemeier Hansson say in their excellent book Rework, hire when it hurts. In other words, don't hire for pleasure; hire to kill pain. Too many startups and scaleups fall into the trap of thinking they need to higher a boatload of people.
"Ask yourself, can we solve the problem with a slice of software or change of practice? The right time to hire is when there's more work than you can handle for a sustained period of time." – Rework.
Evaluate and automate
Today's digital businesses move fast and work smarter. So founders should never underestimate the quality of automation. That's why your first step before even considering bringing in new people should be to evaluate what can be automated. And no matter how difficult or complicated, or even expensive, if it can be automated, just do it.
At the risk of sounding cold wherever you can, prefer software over people. Why? Here are some obvious reasons:
Software is reliable. People are unreliable.
Software is predictable. People are unpredictable.
Software works 24/7. People work certain hours per week and need vacations and days off every now and then.
Software never complains. People always complain.
Software works (mostly) for free. People work for being compensated.
I could go on. You may ask yourselves "OK, automation is cool, but how widely can it truly be deployed in a real business?". Well, it can be used a hell of a lot. Most of the tasks in a modern digital business can, and should, be automated. We're already living in the era of labor efficiency! Just give it a try.
Analyze this, automate that
Let's see what we can automate then. Sales ops? Automate it. Support ops? Automate it. Marketing ops? Automate it. Customer success ops? Automate it. Software testing? Automate it. Reporting? Automated it. Think of all those tasks that are mostly repetitive. Yep, there's a lot off them, right? But once designed (this is often the most painful part) they don't require some particular creativity or unconventional thinking. We can automate such tasks relatively easily.
The advice is clear:
Hiring people to do tasks which could (and should) be automated is the new definition of waste.
Consequently then, the new rule of thumb for a successful digital business is simple, too:
Only hire a person for a specific job if, and only if it is absolutely impossible to get a piece of software doing that job.
At the end of the day, this is to the direct benefit of the individuals, too. Life is too short to be wasted on-creative work. Human beings deserve to be experiencing the joy of creativity . And such joy is rarely found, if ever, in accomplishing repetitive tasks.
So there you go. If you can, don't hire. Just code it.