Startup Pitch Night by IIC is coming up on March 10 at Robert Bosch S.A. at Koropi. And it's a great opportunity for IoT startups that want to pitch their ideas and get valuable feedback from experts.
We have previously told you all about it here in our blog. Last week we had a micro-interview with Kai Hackbarth, Evangelist at Bosch.io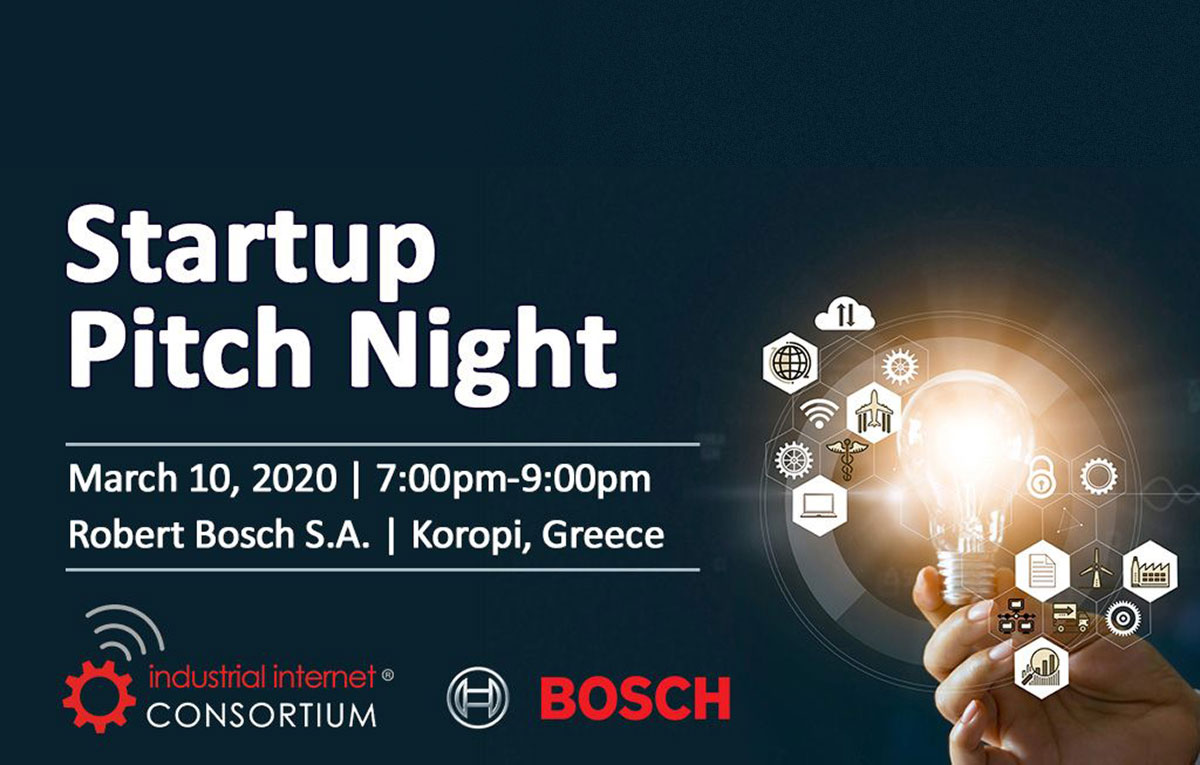 This time, we got a chance to have a short discussion with another member of the organizing committee, Apostolos Thasitis from Bosch Hellas. Apostolos introduced us Bosch Hellas and shared with us his comments regarding the Startup Pitch Night.
And since startups is all we care about we didn't miss the chance to ask his feedback on Agrotica2020, a trade fair event focused on agro-technology that took place the previous days. According to Apostolos, Agro-technology is breeding ground for startups that aim for the trade sector.
Q&A with Apostolos Thasitis
Tell us a few words about you. What do you do? What's your role in Bosch Hellas?
I joined Bosch Hellas in 2017 as Business Development Manager. For the past 15 years I have been working in the engineering and business functions of sensor technologies, connectivity solutions, industrial automation and heavy machinery. At Bosch my activities are focused on IoT solutions across multiple domains, working closely with teams around the world.
Since Bosch is a multi-disciplinary organization I always try to keep a broader view of the market needs and engage with cross-selling initiatives within Greece and cross-border. My business development activities are currently focused on Mobility and Agriculture Connected Solutions while others sectors such as manufacturing, logistics and retail are rapidly gaining traction.
What are the main activities of Bosch Hellas?
Bosch Hellas has operated as a subsidiary of the Bosch Group in Greece since 1992, although its presence has been recorded since 1913, and currently employs 466 members of staff.

In 2019, company sales amounted to 205,6 million euros. Bosch Hellas is active in Mobility Solutions, Consumer Goods, Heating Systems, Security Systems and Industrial Automation, offering a wide range of high quality products.

The company also has the commercial responsibility for Cyprus, Albania and Malta. In recent years the company has started to pursue new business opportunities in the field of IoT, streamlining with the corporate transformation 3S strategy (Sensors, Software, Services).
How could Bosch Hellas(or Bosch in general) cooperate with Greek startups?
There is no doubt, that Greece is emerging as a promising hub for tech startups in the region. Bosch as a technology provider and leader in IoT technologies is committed to fuel the ongoing digital transformation of enterprises. Tapping on the excellent talent pool and most promising network of technology entrepreneurs, Greek startups can provide a great synergistic opportunity in which both collaborating parties can approach the technological challenges ahead of us.
Bosch Hellas is encouraging sustainable and open innovation initiatives with Greek startups that can present a clear vision of their footprint to humanity and the environment. In this respect we are looking forward to working together with like-minded teams.
We recently had a discussion with Kai Hackbarth regarding the upcoming IIC pitching event that Bosch Hellas supports. Tell us a few things about this event focusing on Bosch Hellas' contribution on that.
Bosch is an active supporter of open innovation across the globe. Similarly, Bosch Hellas is currently exploring synergistic approaches with the local startup ecosystem, aiming in accelerating the adoption of advanced technologies.
The IIC Startup Pitch Night is an excellent opportunity to bring together industry experts with talented IoT startups. As such, we are proud to be hosting the event at our Bosch facilities in Koropi, Athens and embrace the opportunity to discuss innovative ideas that can shape the future.
And finally focusing on Agrotica2020 that took place the previous days.
What are your key takeaways? How do you see the future of agriculture technology in Greece?What will be the benefits and the challenges yet to come? How can startups contribute to it?
The agriculture sector around the world and Greece in particular has a traditional operating model which is highly skeptic to change. On the other hand, climate is constantly changing. Therefore, new agriculture technologies are now more than ever necessary to help this community adapt to fluctuating conditions.At Bosch we are working on innovative technologies that bring value to farmers while respecting the environment.
The Agrotica2020 trade fair was a great opportunity to present our connected agriculture solutions that are easy to understand and operate by all stakeholders of the agro-food value chain.The farmers expressed genuine interest in solving real-life problems by embracing IoT technology so we couldn't be more content.
At the same time, we have to admit that although the dissemination of new technologies in agriculture is showing promising signs, it will take some time before its benefits are realized by farmers. We believe that startups can have a dual role in this, either by developing new solutions or acting as multipliers of knowledge to farmers.
And let's not forget that innovation is a process that requires collaboration across all levels.
We would like to thank Apostolos for an insightful discussion.
Startup Pitch Night: Don't miss it
If you have not yet made a registration for the Startup Pitch Night, you may visit IIC and book your seat now (seats are limited). Make your registration.
Don't miss the opportunity to attend this wonderful event!
Come and join us!
When: March 10, 2020 (save the date)
Where: Robert Bosch S.A. facility in Koropi