Are you an IoT startup? Does the idea of pitching your business in front of an audience of experienced professionals sound enticing to you? Well, you've got you covered: now you've got the chance to apply for the Startup Pitch Night. It will take place on March 10, 2020 at the Robert Bosch S.A. facility, in Koropi.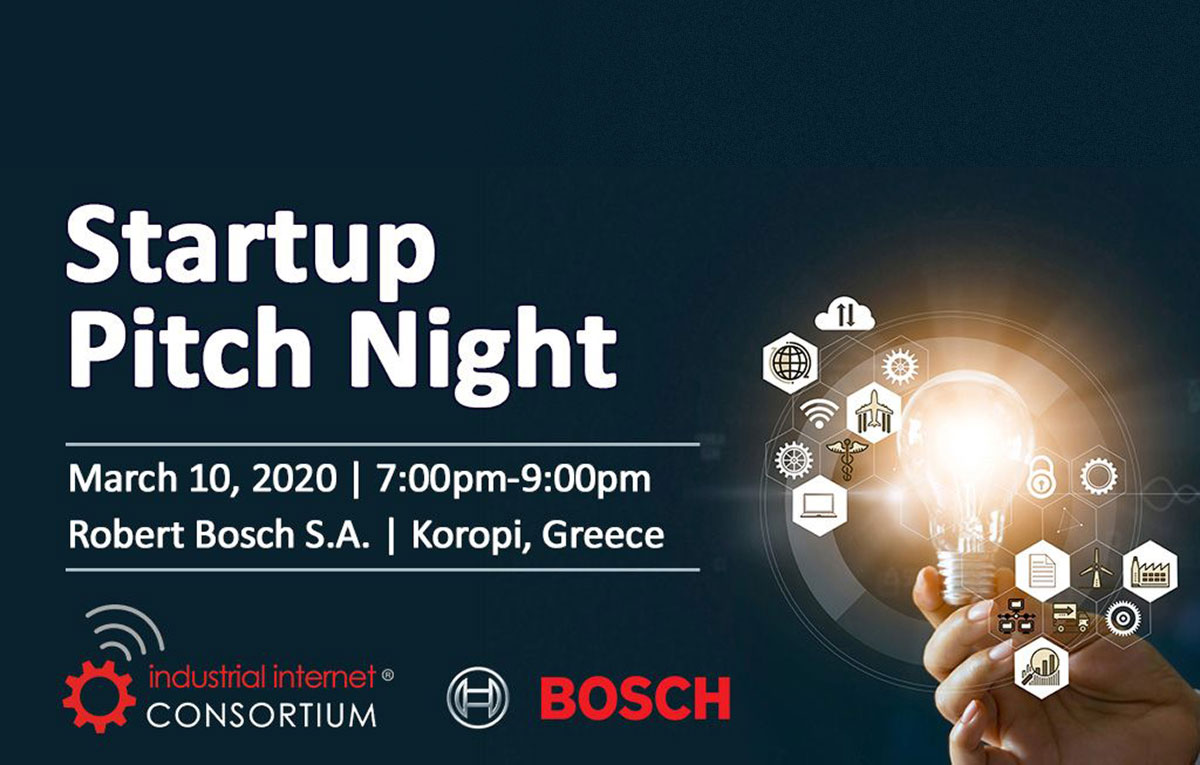 Let's start with a few details. The Startup Pitch Night is being organized for the 4th time in a row, courtesy of the Industrial Internet Consortium, and is a great opportunity for IoT startups to attend and get some constructive feedback.
We got a chance to have a brief discussion with Kai Hackbarth, Bosch's alternate in Greece. Kai gave us all the missing links regarding this interesting event, as well as about the IIC organization. Here is a short Q&A, our preferred way of sharing ideas with you.
Q&A with Kai Hackbarth
(No reason to beat about the bush, let's get right to it. Over to you Kai.)
Q: Kai, what do you do and what is your role at IIC?
A: I work as Evangelist at Bosch.IO. In my role, I provide guidance on the strategic positioning of our IoT platform product portfolio. I have been working in the IoT sector now for almost 20 years with focus on IoT middle-ware for embedded devices and device management. Bosch is an active driver of various industry alliances as we believe in open standards and open source technology. As for the Industrial Internet Consortium, I am the Bosch alternate in the IIC steering committee. Additionally, I am the co-chair of the Open Source Task Group as well as the Over-the-Air Special Interest Group.
Q: Now tell us a little bit about the IIC that is organizing Startup Pitch Night. What is IIC and what's their contribution in the industrial internet domain?
A: The Industrial Internet Consortium was founded in 2014. IIC is a big organization with more 250 member companies from across the globe. The mission of the IIC is to accelerate the growth of the industrial internet in different domains by identifying, assembling, testing and promoting best practices. IIC members, from startups to big corporations collaborate in a variety of activities. There are just too many to list them all, but in short IIC is producing reference architectures, whitepapers around topics like edge computing, IoT Security and Trustworthiness.
Test Drives(3-6 month pilot projects) and Testbeds provide the means to implement in collaborative way very focused IoT use cases up to larger projects that are piloted in real world environments. The results and experiences from all the working groups and Testbeds can be found at the IIC Resource Hub.
Q: So, the IIC is hosting a Startup Pitch Night on March 10 at Bosch in Koropi. Can you explain in more detail all about the event and the selection criteria for the startups that are interested to participate?
A: Well, the IIC is meeting every quarter either in Asia, Europe or North America. We usually expect around 300 to 400 IoT executives and experts from all over the world. As part of the quarterly meeting the IIC has been organizing Startup Pitch Nights, as a complementary event, since last year.
For the Pitch Night we expect around 100 to 150 participants from both the IIC community as well as from local IoT and startup communities.
Bosch Hellas is kindly hosting and sponsoring the event in Koropi. The top 4-5 selected startups will have the opportunity to pitch their IoT solutions in front of an international jury selected by the IIC. For the startup selection process, we have been teaming up with local organizations. In Greece we will be working with you, of course, our friends at Starttech Ventures.
As for the criteria, IIC itself does not indicate any specific selection criteria in order to stay independent. Each startup will have 4 to 5 minutes for their pitch followed by 8-10 minutes questions by the jury. And the price for the winner of the pitch night is a 1-year IIC membership.
What's the Startup Pitch Night?
Let's sum up the details of the event. Here's what you need to know in advance:
Who is it for?
IIC members, as well as the entire local IoT and startup community.
Is registration a prerequisite, to attend?
Seats are limited and pre-registration is required. (Registration closes when all seats have been reserved)
What's in it for IoT startups?
The top four IoT startups selected, will pitch their business to a panel of experts. The winning startup will be awarded with an annual IIC membership.
Don't miss it
As expected, the Startup Pitch Night offers great networking opportunities, over refreshments, of course. You'll get the chance to meet with IIC members from the industry, academia and government organizations, along with fellow entrepreneurs from the local startup community.
Come and join us!
When: March 10, 2020 (save the date)
Where: Robert Bosch S.A. facility in Koropi
Startup Pitch Night by IIC @BoschHellas
was last modified:
February 28th, 2020
by