What is the first e-commerce platform that comes to mind, when it comes to online shopping in Greece? Without a doubt it's Skroutz, the scale-up that changed the Greek e-commerce market.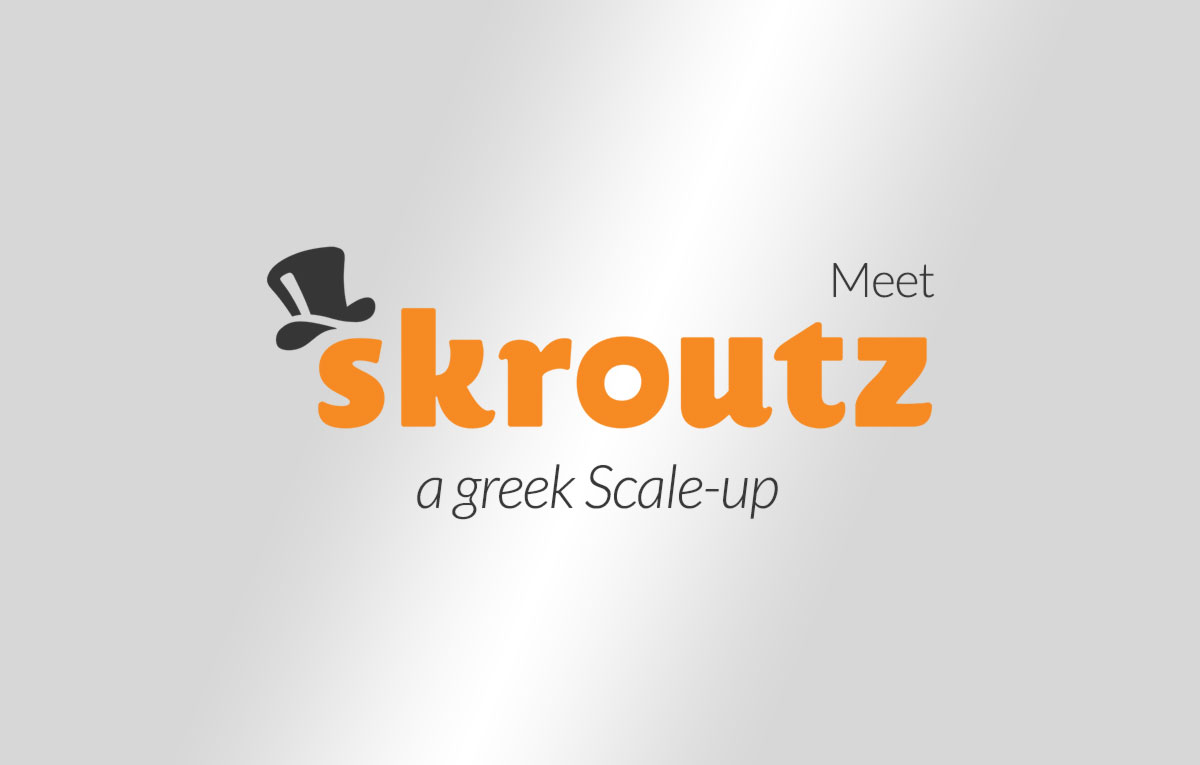 Indeed, Skroutz has established itself as the number one site that Greeks trust for their online purchases. And though this is a fact known to everyone, what is not widely known is the story behind this successful formerly startup and currently scale-up company.
It's had a thriving journey that counts 15-years, so far. We're going to try and unfold it together with George Hadjigeorgiou, co-founder of Skroutz. And we would like to thank him for his generous hospitality, during our latest Scale-up Greece event.
Scale-up Greece with Skroutz
For the uninitiated, Scale-up Greece is an effort of ours that aims at showcasing Greek startup companies that managed to break new ground within Greece and stand out in global markets.
Our goal is to learn ourselves and help communicate some of the valuable learnings they've gathered all these years to the whole Greek startup ecosystem and beyond. To that end, we invite these companies in an open discussion. And all this would not be possible without their kind participation and mutual support.
Of course, there could be no Scale-up Greece initiative without Skroutz being one of the companies hosting an event. That's why we've chosen their company to host the first Scale-up Greece event for 2020.
We can learn all the details of the story from George Hadjigeorgiou, as he narrated it in a really insightful and casual presentation. After we've pieced together how it all began for Skroutz.gr, we can get into the interactive part of our Scale-up Greece event, chock full of questions and answers regarding their path towards growth and their future plans and challenges.
Skroutz.gr: the backstory
As George Hadjigeorgiou explained, it all started back in 2005 when he was looking for some spare parts, trying to repair his broken PC. In that key moment, he realized that though there were many price-comparison websites abroad, Greece fell behind on that. There wasn't any relevant website to help him in his search. That's when he decided to challenge himself as an engineer and see whether he could make a price comparison site for PC parts, from scratch; and he did.
In his own words:
"Back then, there were only 12 e-shops. I'll admit I didn't even ask them, but I used to capture their products' data with a bot. I was writing lines and lines of code only to get their data. And once there was a modification — even the smallest one — in the front-end of any of them, I had to write the code all over again."
Once he made an announcement on a famous Greek forum (insomnia.gr) for the fun of it. The next day his site had almost 300 visits on his own website. That seemingly small number was pure success by any standards, back then.
Interestingly enough, in the beginning, he used to check out for referrals on sites, in order to thank them for their back-links. And he continued that act of gratitude till they were too many to handle.
Gradually, this side project required more and more time of his life. He realized he couldn't continue the endeavor on his own. So, he approached his co-founders, George Avgoustidis and Vasilis Dimos. Together, they managed to grow Skroutz into what we all know today.
Skroutz.gr today: From price comparison to an exceptional business
Starting as an aggregator, focused on PC spare parts, George Hadjigeorgiou and his peers managed to build a really successful business. Today, the company offers three services:
A marketplace
Skroutz.gr as we all know it — i.e. a price comparison platform
Skroutz Food; an e-commerce platform for food delivery.
Till recently, they had been only focusing on the first part of the customer's journey; the one that ends once customers decide to buy a product they've found within the platform. As George explained:
"We used to redirect customers to e-shops where they would finally buy the product."
But, recently, they decided to enhance their service. And today they focus on the full e-commerce customer journey. They now have almost 400-500 categories of products, which you can buy directly from the Skroutz.gr platform.
"Customers don't need to visit the merchant's e-shop. It's optional.", George explained. They plan to expand this feature to encompass all their product categories, without depriving customers of the option to buy from a merchant's e-shop. (Fair enough)
As for the stats, numbers definitely speak for themselves:
Skroutz.gr, in numbers
George showed us a summarized table with stats that demonstrate Skroutz.gr's great success. Here's where they stand today:
Skroutz.gr is the number 1 online shopping web-page in Greece: "If you leave all famous platforms such as Facebook, YouTube, Google etc.aside, we're fifth", says George proudly. And rightly so; they have 8.5 million unique visitors per month.
They enjoy a remarkable traffic volume of 34 million sessions per month (70% mobile traffic) with sessions coming from all types of devices. As George explained: "In order to read the numbers correctly you need to consider that users may use many separate devices, such mobile phones, tablets etc."
There is a huge network of merchants that trust them. That is, more than 4000 e-shops and more than 12 million products available on their site.
And, finally, regarding their latest endeavor, they have 150 million users in the Skroutz marketplace and 1.5 million registered user accounts in total.
Their success came steadily and progressively. As George asserts, they kept growing and growing from day 1. And it was only during the recession and the capital controls that Skroutz was affected by the financial crisis; but only for a couple of months, altogether.
That was the beginning of Skroutz's story as George Hadjigeorgiou shared it with us. His short presentation was followed by an open discussion focused on a variety of topics in managing the company and its people. 

Read on to the second part. We'll be able to learn more on the challenges he and his team(s) faced, in their efforts to grow.