It's been a "long time, no see" since our latest live Scale-up Greece event. And we're finally back on track with a new live session. In case you missed it, this time — in our first live meetup after the pandemic — we got the chance to visit the offices of a Greek scale up that thrives in the media tech industry. And that's Orfium, a 7-year-old company that specializes in music rights management and monetization solutions. The people at Orfium have already managed to generate 100s of millions of dollars in revenue for their clients, since its inception.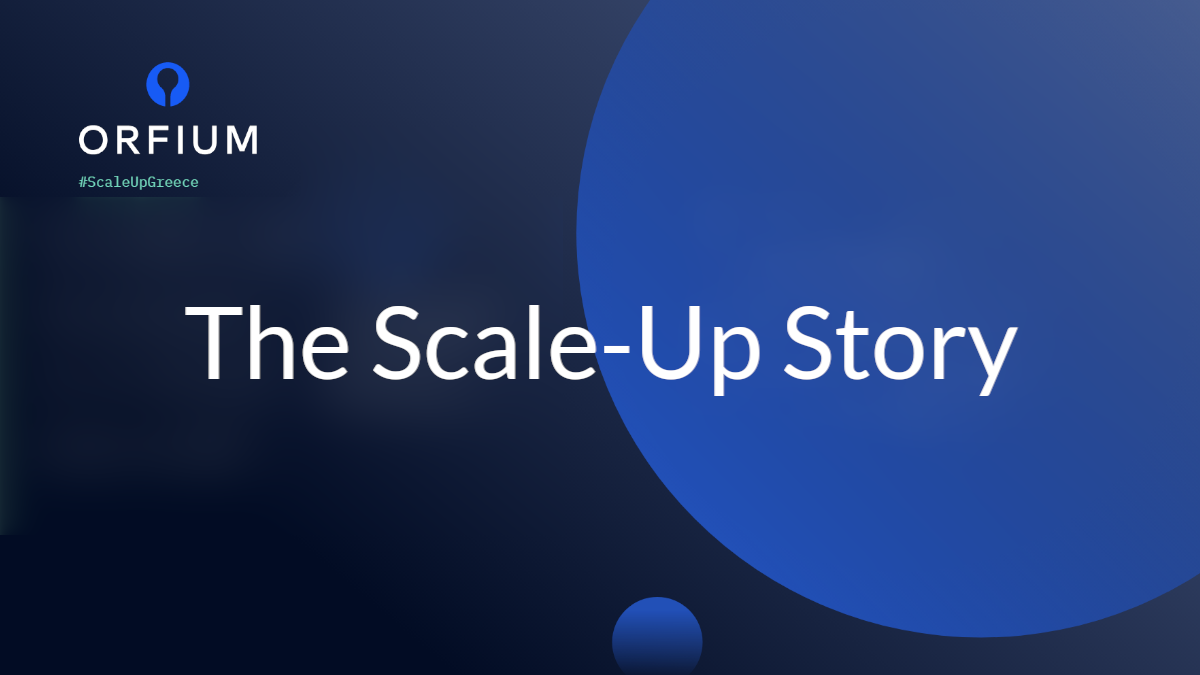 But, as it happens with the majority of scaleups out there, that's only the bright side of the story. And, as you might expect, we made a deep dive into the story of our host scaleup – as we do. We tried to learn all about the challenging and the rewarding aspects of their journey so far. That would not be possible without the generous hospitality we received from the Orfium team. They didn't only open their offices for us, but also kindly answered all our questions, providing us with valuable insights and learnings. The key person for that was Michael Petychakis, CTO at Orfium He's also one of the initial members of the team. During the discussion, he kindly shared with us all the details of the story, from day one.  
So, let's learn all about their story as Michael narrated it to us – and to our audience.
A brief introduction to the music industry ecosystem
The music industry ecosystem is chaotic, but extremely challenging and interesting, at the same time. There are several agents, such as publishers, music record companies, music licensing companies, broadcasters, DSP providers, to name only a few. And, they serve different roles; complementary or contradictory, per case. Some of them infuse music content in the market, while others consume it. Some pay to acquire and distribute said content, while others get paid to provide it. But, all in all, there's a shared need. That is to say, the efficient monitoring and management of said transactions is of paramount importance for all aforementioned actors.
And that's where our host's offering comes in. At Orfium, they're aiming to build a robust infrastructure to safeguard content rights in every step of the music ecosystem chain. In particular, to facilitate operations in said transactions, from day zero; i.e., from the moment of creation till the pay day – for the artist.
But how did it all start?
Orfium's story: a side project that turned into great success
They started back in March 2015. It was a team of 5 people, aiming to solve the problems of indie artists. Αnd, thus, they launched a relevant B2C product. As Michael shared with us, they were at the "friends-and-family" stage, with day jobs, to support an effort that would unluckily bring no growth at all in the two following years. It was that challenge that made them consider quitting six months before the end of their runway. And that's when they met Rob Wells – an external advisor, back then – who would become an invaluable partner and, eventually, Orfium's CEO.
How joining forces with a music industry expert set the ball rolling for Orfium
Meeting with Rob Wells made them reassess their options. That's when they decided to give their joint effort another chance. This time, they would work full-time – and in full devotion –
for three months. And so, they did; they quit their jobs and they made an MVP that would solve content license issues in YouTube, from scratch. As Michael explained to us, once a video starts to turn a profit on platforms like YouTube, there's a need for the artist to get paid and their solution is ideal for that use case.
And it was that product solution that brought them their first paying customer, three months later. Put another way, a startup that was about to quit, built a product that managed to attract and acquire a huge client. And that was the beginning of their journey. So, all in all, instead of shutting down, Orfium managed to quadruple their dynamics within one year!
Things that contributed to their success
There's no doubt that when you get the chance to examine things in retrospect helps get a better understanding of how they evolved over time. You can see what worked, as well as notice blind spots on your way. Michael kindly shared with us all the key factors that contributed to their success.
Focusing on the right problem and on the right segment
The initial solution they created was focused on helping indie artists upload and share their music. Pretty much what SoundCloud offers, today. But that didn't work because, as Michael explained to us, indies were looking for ways to grow their audience and not to resolve revenue and sharing content issues. Huge music companies, on the other hand, with no analytics and multiple subsidiaries all over the world, were struggling. Predominantly, when trying to manage content rights and catalogs. As Michael pointed out: "Spotify and other platforms disrupted the usage. We managed to empower the digital disruption of the traditional music industry."
Making the most out of opportunities to build industry know-how
The key to their success, according to Michael, was their decision to join forces with Rob. Their partnership brought in some invaluable know-how, contacts and network. And that's how he got a large percentage of ownership and became the CEO at Orfium. As Michael pointed out, there are numerous startups out there that are hesitant when they're called upon to make such a decision. But, truth be told, it may be worth taking the leap, as this may ignite the beginning of your success.
Orfium today
The team
Today, Orfium's headcount is in the 300 employee range. With offices distributed in Greece, the USA, the UK and Asia, the company is growing rapidly. Their biggest office is here, in Athens, hosting 200 employees. But they're also growing in LA, the UK, Japan, and Tokyo. And these are among the biggest music industry hubs in the world.
The colossal customers
Their B2B services and products focus exclusively on the Enterprise model. And, though their customer list may not be exhaustive, yet it contains distinguished colossi of the music industry, such as Warner, Sony and Universal. They, by no means plan upon "touching" the final artists or creators; neither do they plan to compete with their own customers. But, they do aim to target small and midsize players in the music industry, in the future.
The Q&A part
Q: When you decided to switch from the B2C to the B2B model, were you at all concerned as to how this will affect your company's credibility?
A: Of course. For a whole year, that was a burning issue for our team. And, though we tried not to talk about it, it worried us a lot. During that period of time, when we used to offer services to both categories of clients, with contradictory interests, we got unpleasant feedback and comments from customers. And that's when we decided to switch completely to B2B.
Q: What is your definition of a scale up? Is it 10M ARR? Is it the same in Greece and worldwide?
A: There is no doubt that there are differences in other territories. Scale-ups in NY, for example, are companies with $10-$15M ARR, and so forth. Endeavor, for instance, defines scale-ups in Greece as companies with €1M ARR. For us, it's a startup that has already found a good product-market fit; and is eager to get as much of a market share as possible. In our case, though we were growing really fast, we were hungry to deliver innovative quality, make improvements in our products, resolve all sorts of bugs; and, thus, make additional sales based on these improvements.
Q: Was it innovation that turned you into a scale-up or was it quite the opposite? What would you say?
A: I'd say that there was an innate urge to be innovative. Perhaps that works the other way around for other startups. But, in our case, we had to be innovative, because the competition in the music industry is really high. We entered an industry with dominant players; and we had to innovate, so that we'd be the best. And, being the best includes, among other things, creating new products, evolving existing solutions and opening up to new markets. All in all, at Orfium we do our best to turn solutions into product suites; and satisfy our customers' needs in an optimal way. That's our cornerstone.
Q: What's your take on the hybrid work model?
A: Well, undoubtedly, a fully remote model takes away the human element from work. Human interaction and culture vanish. And when there's no human connection between people — who constitute the rest of a team, and the company as a whole — as it would be in the office, work is just an execution of tasks and processes. And when that happens, it's easier for people to jump ship. Especially in tech roles, there are multiple options and opportunities out there.

On the opposite end of the spectrum, people usually stay not only because they like their job. They stay when they like the people they work with. When the atmosphere at the office is one of a kind. And when they like the problems you are collaboratively challenged to solve. In a similar fashion, they'll also stay when there's potential and an enticing stock option plan.
Q: Why choose an M&A scenario, instead of in-house development, when aiming to expand in adjacent segments, for example?
A: One reason may be the fact that there may be players out there — perhaps with smaller growth rates — trading in complementary sections, for a longer period of time than you do. On our part, whenever there was such a case, we made an attempt to make a first contact and see how it goes. If the other part is open, you may start discussions around an M&A transaction. And that's easier when you share the same vision. Closing such a deal is a win-win for both parties. And it gives you a head start, as you have the clientele and contracts ready; and, thus, you take it from there.
Q: Is Greece's tech workforce enough to drive success forward in high-tech sectors, such as the Metaverse and AI?
A: Certainly, yes! We have talented and qualified people. What's missing is something we usually see in mid-level roles. And that's the startup mindset that includes things such as fast deliveries, pivots, adapting to company maturity by making effective changes in methods and processes, and so forth.
At Orfium, we came across these challenges and we tried to gradually educate ourselves and make the most of available resources so that we get used to things completely unfamiliar to us, such as R&D capitalization. And what may be helpful is to work within an ecosystem, as there you get the chance to learn more from people that work close to you.
Key takeaways
So that was it! We're grateful to Orfium and Michael Petychakis for sharing all these invaluable learnings and insights from their journey, so far, with our audience. Our takeaways can be summarized in the following key points:
Having a startup mindset, right from the beginning of your journey, is a key factor for your success.
Startup life calls for tough — but, in the end, rewarding — choices, such as opening up to new partnerships.
Team consistency is, without a doubt, a dealbreaker for your startup's future.
And, last but not least, culture and the human element of work are indispensable. That's what will make talented people stay, in the end.
If you have not yet subscribed to our Scale-up Greece group, here's the link. We'd love to see you join us! Until next time, then!