Much ink has been spilled on the importance of first hires. Why? Well, it's the first people you get on board that help your business get off the ground, helping you run all sorts of fundamental business operations efficiently. And in like manner, they help you lay the foundation of a successful business. That's what makes titles such as "What to look for in your first hire" strike a chord with business owners.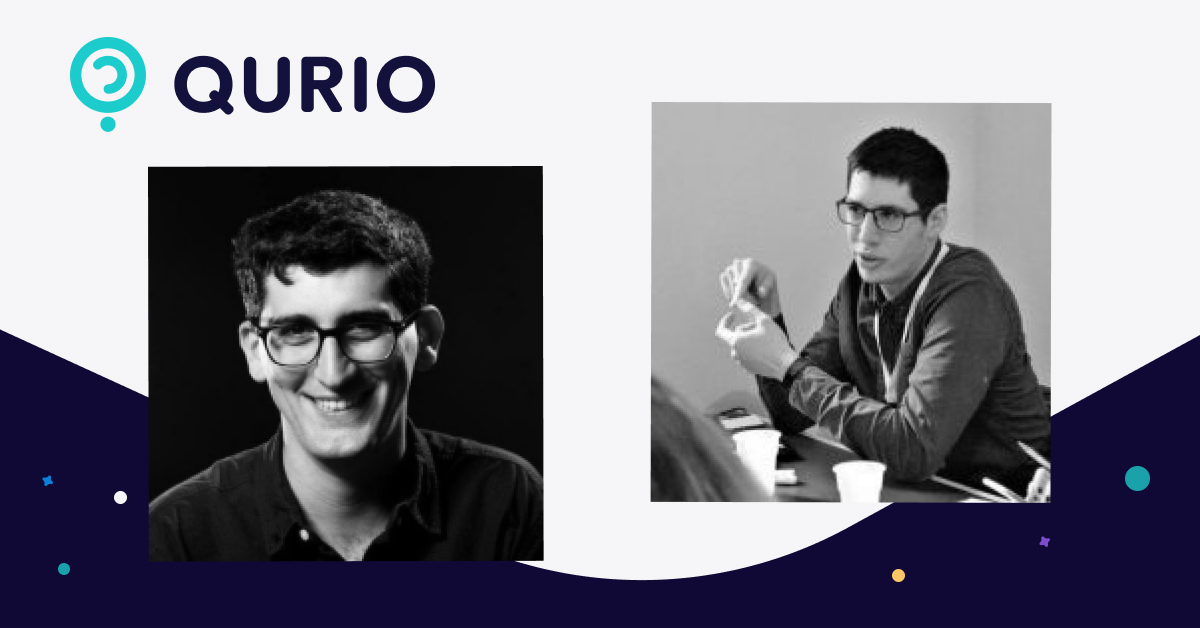 And this is all the more so for startups that encounter several difficulties right from the beginning of their journey. As a matter of fact, hiring the first employees is one of the earliest and most critical milestones for a newly-formed startup.
On our part, we have discussed that topic time and again here in our blog. We shared our two cents on how and when you should start hiring for your startup. And we've also discussed the reasons that make finding and hiring skilled engineers one of the most challenging tasks of new tech startups.
Qurio, our new-planned venture
This time we decided to take the other way around and had a conversation with the founder and co-founder of a new startup of our own — Qurio, the new-planned venture of our portfolio focused on news media tech. Our guests, Tassos Morfis – reporter and founder of Qurio — along with Spyros Tzortzis –co-founder and marketer of the team — share a passion for quality journalism and have just begun their journey of materializing that passion into a news tech product. In case I've missed mentioning it: Qurio team is hiring the person number three!
Hope that now it all makes sense: we're sharing with you –the perspective of a fresh, newborn startup on the first hire the moment they're on it.
Allow me here to share a short note before we get the brains of those two fresh startuppers on first hires.
I've been working relatively closely with the team for the past months; as Starttech Ventures internal representative.
But even so, I can't wait to learn all about Qurio's team's take on first hires. In the end, it's always useful to learn new things from people who hold different roles and backgrounds. After all, that's more or less our goal with our Q&As.
So, over to you guys, I'll only pose the questions. Let's get started!
Q&A
Q: First of all, tell us a few words about your startup: what you're building, for whom, and why?
Spyros:
We are building a platform that is helping newsrooms and media, in general, to communicate with their audiences. Our clients are local newsrooms or online magazines asking questions to their readers to get feedback, find out what stories to make, and attract subscriptions and revenues. We are an operating system for audience engagement, as we like to call it.
Tassos:
Qurio grew because of the need to make the tasks of an emerging role in newsrooms, the audience editor, much more manageable. Audience engagement is crucial for small and medium-sized newsrooms for more quality journalism and to reduce churn. So we are building a platform that's going to help newsrooms engage with the communities they serve and make engagement much more fun for everyone involved.
Q: What are the values of your company?
Tassos:
We are building a company that shares the values of a newsroom that respects its work and its community. For us, balance is critical for all aspects of life; and when it comes to reporting, balance and fairness are essential. Great journalism can not be produced without collaboration. We fundamentally believe that journalism is of a higher quality & impactful when produced collaboratively; not only between journalists but also between newsrooms and communities. Collaboration also fuels creativity. Newsrooms use various tools and techniques to listen to communities, understand their information needs and pressing issues of concern, and build empathy and trust.
We are always trying to get more creative because we are curious about the world. Curiosity sparked my journey into journalism; and Qurio aspires to help reporters find relevant information, conduct research, interview diverse sources, and mine social media for newsworthy signals. Curiosity is the hallway to diversity, an essential value for us that defines the modern world; and the broad spectrum of opinions and feedback we are bringing to our clients by building tools to collect information and viewpoints from a diverse range of sources.
As journalists, we need to be generous with our communities; and given certain technical limitations, Qurio is generous with its team, clients, and partners.
Even though we are building a digital product, we firmly believe journalism is a service and not a product. One more reason to be generous!
Spyros:
That's a great question, and it's a pity that it's often an overlooked aspect of building a company. For us, alignment in values is actually a pretty good indicator of a smooth and productive collaboration, which has already been shown in the past. If we had to drill down to a list, we could pick those four:
Collaboration is essential – we work as a team, we think as a team, there can be no "us versus them."
Curiosity is vital – we are always digging a little deeper, we are here to learn, we are asking a lot of questions, and try to reduce our biases as much as possible; the same way that our product helps our customers act on their curiosity for the communities they serve. And finally,
Trust and
Generosity.
We suppose the best for the other person, we believe in kindness and goodwill; and we like to "trust and verify" rather than "find guilty until proven innocent."
Q: Where do you see yourself and your startup company in five years?
Spyros:
It's a common misconception that startups should be like rockets launching into space. No – our take is that we are here for the long run to build a healthy and sustainable business that is still meaningful and enjoyable to work for. By that time, we should not only have achieved a solid product-market fit; but more importantly, we would like to have a series of case studies of newsrooms building meaningful relationships with their members using Qurio.
Tassos:
While our journey is only starting now, we wish to be sustainable, impactful, and make our customers happy with our products. We have a lot of work ahead and would like to be building technology that drives change, like the change our customers with their journalism are pursuing.
Q: Now that we're done with the intro, let's focus on the hiring part. Do you have an idea of whom you want to recruit in terms of skills?
Spyros:
Hopefully, we have more than an idea! [both of them laugh] As we have already said on our job ad , and I cannot stress this enough, we are looking for our lead engineer. Neither Tassos nor I am technically qualified to build the platform; so we are focusing more on our strengths: talking to customers and marketing.
Our first hire will actually write code and take key decisions regarding our infrastructure and functionalities. As a result, it makes sense that we are looking for some level of seniority and experience; and a clear intention of coming on board exclusively and for the long run. We are deeply aware that not all great engineers should/can be great managers; so team leadership skills would be a huge plus.
Q: How important is it for you to find candidates that will be in tune with industry trends?
Tassos:
With Spyros, we got to know each other from Greece's independent media scene, and Qurio allowed us to work together. For our candidates, background in the industry is a huge plus, but if that's not the case and they just share the same values, mission, and vision, we'll update them with the latest developments. We want to work with creative technologists who share a passion for quality journalism. We build a team that will work alongside journalists and turn their needs into a product.
Spyros:
That would be like finding a unicorn holding a four-leaf clover! Truth be told, it's not really a necessity. Actually, this is one of our main arguments as we build Qurio: You see, what we are trying to do with our product is to bring existing concepts and experiences from other industries to media and journalism.
For example, one could say that Qurio helps newsrooms provide customer support to their readers, collect and gather insights from their engagement analytics, etc. It's a thesis that news and media have a lot to learn from the retail or the fintech industry.
Q: So, what makes a great coworker for the Qurio team? And why do you believe that?
Tassos:
Creativity. Creativity, like journalism, is the #1 enemy of any establishment. It might sound like a cliché, but the media industry is changing rapidly; and we need to learn, understand and adapt. As a startup, we are solving a problem and, at the same time, battling established mentalities in the industry. Technically speaking, the foundational skills for future co-workers is the ability to learn fast and adapt while being fun to work with. With creativity.
Spyros:
I read in a great quote a long time ago that a good hire should add creativity or clarity. In other words, each one of us should be able to help the team make new things or do the same things but much better. I stand by this quote to this day; and I find it fascinating that these few words can capture exactly what makes each contributor valuable to the team.
Another great way to answer this question is to think (hopefully before taking a new hire), what is your biggest challenge with that person? What is the worst-case scenario that can happen by working together? You should always expect challenges and friction in any collaboration – but if your highs are great and your lows are at least acceptable, then you should go for it.
Q: How important is cultural fit as a criterion for hiring a candidate?
Tassos:
When it comes to team building, I need to point out that we embrace diversity and inclusion more than anything. If the candidate has a builder's mentality and shares the same values with us, then it's only a matter of aligned interests.
Spyros:
We are in a very early stage, and at the moment, we are hiring our person number three. As a result, cultural fit is critical since we are still building the foundation, and many things should get right from the get-go. In the same way that we might not have made the company if it wasn't for the Starttech culture, in a similar way, we wouldn't like to end up hiring anybody just because they have the muscle to perform.
On top of that, we are aware that this works the other way around, too; you shouldn't come to work for us if something is bugging you or you don't feel that we can be together in the long run!
Q: What are three qualities that new hires must-have in terms of cultural fit?
Tassos:
Be creative, a good listener, and a builder. Our company values reflect the qualities new employees must have to be more precise.
Spyros:
It's about company values. However, let's elaborate on that and connect it to our hiring strategy. For us, these three things are essential:

We expect you to be a team player and feel great in that. Sometimes you might think that we need to speed up; sometimes, we might have to spend time and mindshare to get everyone on the same page, including you. This is perfectly normal, and you should be comfortable with it.

We love to see your initiative and your drive. As a leader, we expect you to spend your time and energy to convince us in one direction; but the ultimate decision is at your table. Suppose you feel that something's missing; go ahead and make a suggestion. If you find out something that we should pay attention to, we can't wait to hear it from you!

Last but not least, it is crucial for everyone involved that you care. A lot of newsrooms are going to use the product; and it is going to help them improve their relationship with their readers. We started Qurio because we cared about how things are getting done in journalism and because we care about what our end users will get. Would you buy our product? Would you be OK logging in on our dashboard every day? Caring and creativity are the only things that make work feel not like, you know, work.
Q: Finally, tell us a question you'll include in the list of the ones you'll ask your candidates and why?
Tassos:
I always ask how they found us and what inspired them to get in touch. As employers, we need to know about the funnels driving hiring and how they reach candidates. What made the candidate click is also crucial. It shows whether we communicate our values, mission, and vision the right way and if our company is appealing to candidates – not only for the benefits offered- but how we make this world a better place.
Spyros:
That's a tricky question to ask, I think. But let me try! I believe that something that we should ask is the ranks: "What do you think your job will be like"? This question can help us (a) improve the job ad and (b) test our candidate's understanding of the role. One other question would be: "What do you believe your job should look like? How do you think your role will play out in the future?".
And one last suggestion for our future candidates: please ask us questions. It is not only an easy trick to make us feel that you care, but actually, a vital sign that you are actively involved in the process, and you do care for the role and our mission. Always ask questions; that's what Qurio is all about, right?
Wrap-up
Well, that was it! We hope you enjoyed our discussion with the Qurio team on first hires. Hiring is undoubtedly a real pain in the neck for new startups and a challenging endeavor. However, when teams focus on team building and shared values right from the beginning –the way Tassos and Spyros shared with us— well chances are that they'll finally get it right!
And now a few questions for you:
Want to learn more about Qurio? Have a look at their website, add them, and/or follow them on socials!
Want to be part of their team? Apply now!
In any case, do not hesitate to drop Tassos and Spyros a line; they'll be more than happy to get in touch with you! That's for sure 😉