Are you wondering who might be the right person to talk to (customers in B2B), when it comes to selling your product? Well, have you done an Organizational map?
An Organizational map is a diagram that shows the structure of an organization and the relationships and relative ranks of its people and job descriptions. The term is also used for similar diagrams, for example ones showing different fields of knowledge or specific placement in our sales process.
You need organizational maps during your customer development process, to track down which people in an organization you need to have support from, in order for the organization – or – customer to adopt your product.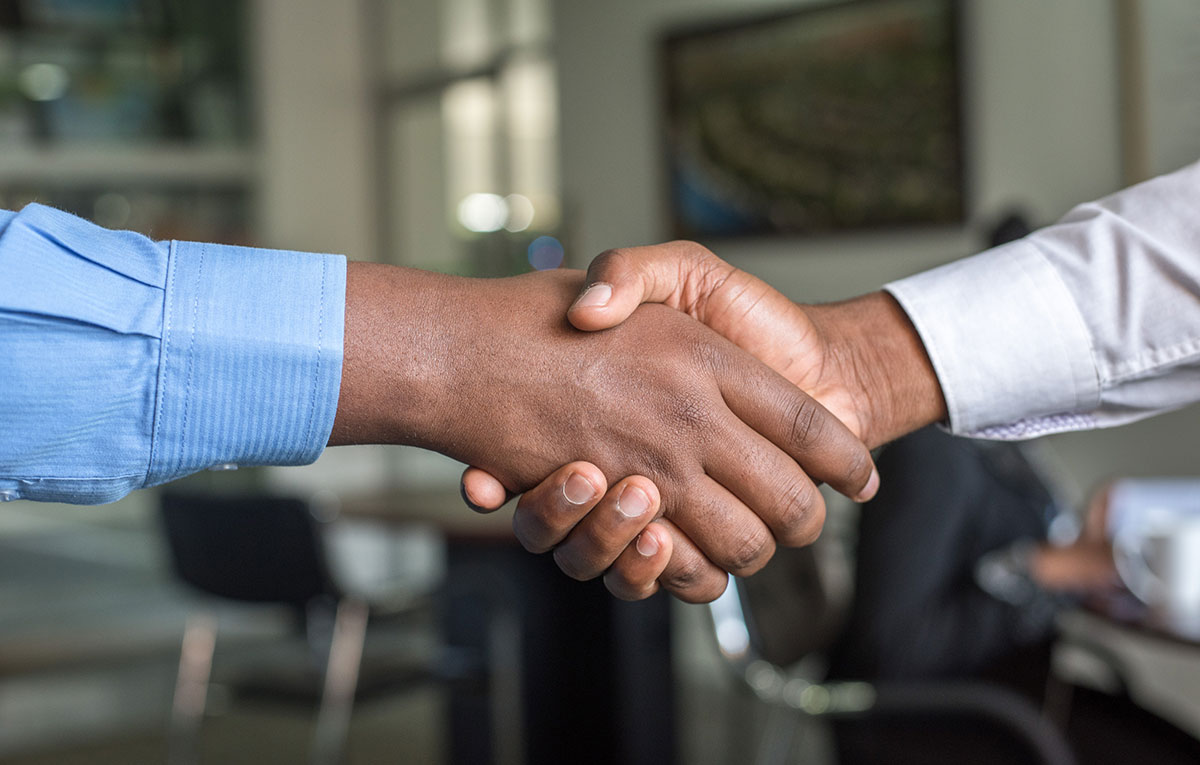 How to sell in B2B
If you're developing a product targeted on a Business to Business (B2B) type of market, you should be facing the same problems marketing your product, as anyone else. And chances are, you're probably wondering what is the best way to reach out to your customers. Also, the occasional reality check doesn't do any harm; is there anything you're doing wrong that you can fix or any process you can improve for better results?
Types of customers in B2B
In B2B, there is such a thing as a high level classification of customer segments. One that can help us sort of consolidate and standardize our processes regarding communication, sales, customer service, etc. And there are a lot of different types of customers in standard business or the startup world, but let's go through the basics.
Producers and Manufacturers
Such companies or corporations produce a certain product or group of products; filling a gap in the market, covering certain customer needs. And, of course, getting some considerable profit out of it.
The size of these companies or corporations regarding their Human Resources (HR), their assets and know-how is quite hard to tame under a simple structure with basic management. While growing, they had to modify their culture from vision-based to mission-based. That's so all new personnel may be able to understand why the company is doing everything it does, how and for whom. They also had to break their staff down to manageable teams, so that they can get work done faster. Thus, leveraging specialized expertise and condensing know-how towards specific centers of excellence. That way, one department can educate another when there is a need for specific knowledge, which does not fall under the "common knowledge" category. And all departments can use their in-depth knowledge to do their part in developing higher quality products for their customers.
Complexity of organizational structures for Producers and Manufacturers
Sometimes, their organizational structures are quite complex. If we needed to sell our own product to such a company or corporation we might need some extra time to get the right people to buy in to our concept.
For example, we will need the end users of our product to be aware of it and suggest it to their teams or superiors. But we may also need their superiors to understand its value, perhaps with evidence from industry influencers, experts or "recommenders". And we would need these superiors to be able to make sufficient argument for using our product. That's so they convince the technical buyer in their department or company. And we would need the technical buyer to be able to influence the economic buyer; say the Chief Financial Officer (CFO).
Without succeeding in all these steps, no real value can come out of our sales process. At least, not enough that would constitute viability. And, let's not forget, many large corporations tend to suffer from siloed compartmentalisation. That's a bottleneck in our sales process, as some of the stakeholders – important to making a purchase decision – may decide against our product, due to personal reasons.
To Producers and Manufacturers, we are a sort of providers or vendors.
Resellers and Retailers
Neither resellers, nor retailers develop any products for their customers. But they need to know enough to sell products developed by Producers and Manufacturers. They are intermediaries; the outlets from which the real customers (end users) will get the products.
Their most prominent advantage is, they have built themselves enough awareness and a reputation, so that customers go to them on their own to buy their products. Be it for low prices, great quality, exceptional customer service, or lightning-fast delivery times, the customers will be there. That's something Producers and Manufacturers (mostly factories) usually don't feature; Resellers and Retailers do it for them.
To Resellers and Retailers, we are a sort of producers or manufacturers.
Governments
Sales are considerably harder when it comes to Governments. While Governments are departmentalized and structured like really, really large corporations, due to their size, there may be some additional difficulties in closing a deal.
For example, there might be some political interests involved in a decision to get a solution from us, rather than from a competitor. Or if there happened to be any siloed departments, we would have to get a lot more people (if not all of them) to buy in, before a purchasing decision could be made.
Apart from the legal fuss involved in a service-level agreement (SLA) with a government, the government usually needs our solution to be universal throughout its different organizations and departments. It's a tedious and time-consuming process that demands we have the required runway available. That's so we can close the deal before we have to close our company.
To Governments, we are a sort of providers or vendors.
Institutions
Usually, institutions are private initiatives, subject to public law. While they resemble the structure and model of a corporation, they fund their work mostly with public funds. That means there is strict control over what departments and which activity gets funded.
It may be as hard to convince them of the value in using our solution, as it is corporations. However, we have an additional constriction to fight against. Which is, of course, the available budget and, perhaps, the need for special legal agreements, to accommodate legal restrictions coming from the government.
To Institutions, we are a sort of providers or vendors.
The organizational map
Regardless of the type of B2B customer, we need to draft and gradually optimize an organizational map. It will help us touch all the bases necessary in closing the deal. And while each type of customer has a different organizational map, we still need one. The process is always the same.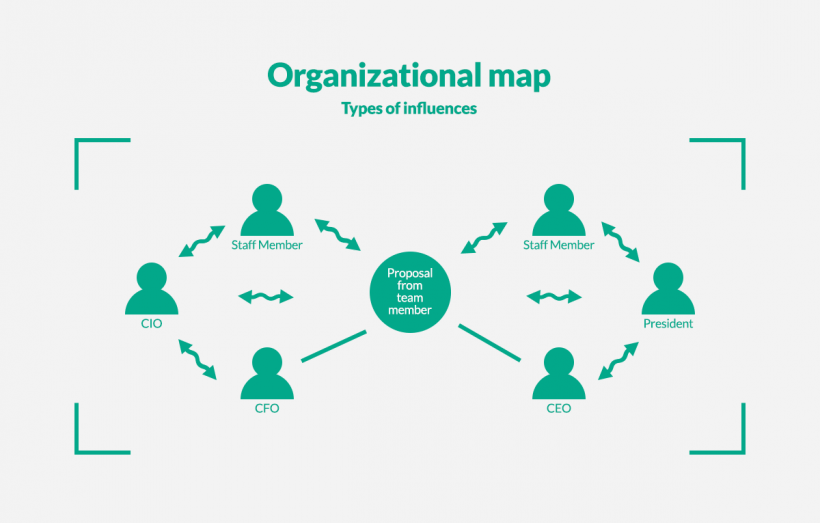 The initial contact may be a form of interest on the customer's side or a cold call on our side. Whichever the case, we need to define the role of each individual we've communicated with. And attempt to get the name and phone number of the next person in the hierarchy. It's what will help us further drill down and map out the corporate structure. After we've contacted all the individuals required and primed them towards understanding the value of our solution, we can understand how each one affects the others; and how important they are in the decision-making process. If we can communicate to each of them whatever information they need to know before they make a decision, we can bring all these individuals to the same room and try to close the deal.
In the example above, we may send a proposal to an individual in a company, whom we already know. Their job will be to convince a couple of influencers whose word carries some weight with the CFO and CEO. In the meantime, we can also try to contact an IT manager. S/he may be able to bring a CTO or CIO on board. Assuming the chairman of the company is the one to make the final decision, if we get enough of the C-Level executives to support our proposal, we stand a better chance at getting the chairman to decide towards our solution.
How do we get started with the organizational map then?
To cut a long story short, whether you have specific people to contact your customer or you're the CEO of your company and you're currently contacting all customers yourself, you need to get started with a basic structure of an organizational map. That's, according to the type of customer. Then, you need to find out who to contact and contact them by priority, as you need access to them and as you learn more about the customer. As your understanding improves, you should modify the organizational map with all new information. Thus, making sure you've communicated all the information you need to all the people necessary.
This whole process will not only help you understand the market in more detail. It will help you get to really know your customers, better understand their needs and pains. It will also help you shape and optimize your sales cycle for performance, making it easier for you to close a deal.
These are features you can only develop through constant communication with your customers. You'll never regret putting in the effort, though. This is something that will only make you better at understanding people and better at conducting business.
[newsform label="Learn more about your startup"]