At our 5th Scale-up Greece event, we had the honor to host LearnWorlds, a thriving edutech startup that recently managed to close a successful funding round, with substantial funding from Insight Partners.
In our latest article, we learned almost all about the scale up company from Panos Siozos, one of the co-founders at LearnWorlds. This time, we'll get the chance to learn some more details about the beginning of their journey.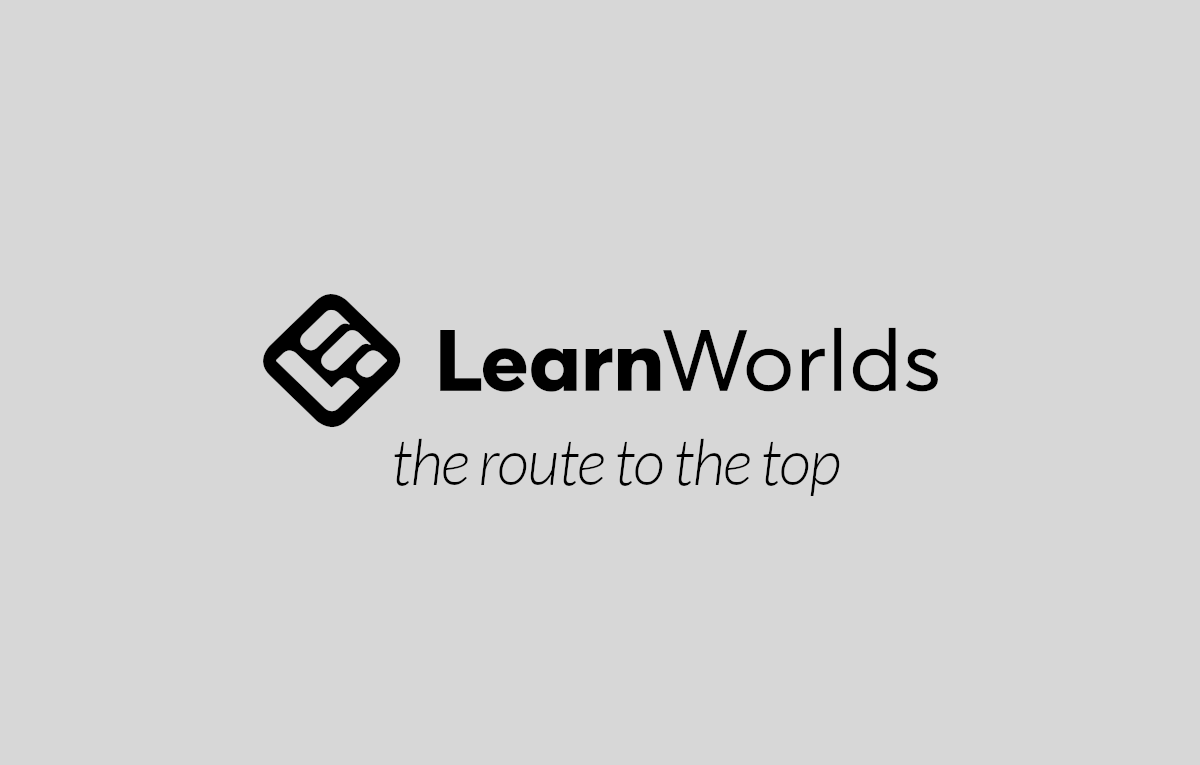 LearnWorlds: Does it take a PhD to build a successful scale up?
Probably not, but LearnWorlds' co-founders all hold PhDs. The company was built by Panos Siozos, George Palaigeorgiou and Fanis Despotakis. The three of them studied Informatics at the same university; and they've been collaborating for more than 25 years, according to Panos. The idea of LearnWorlds was born back then, while studying for their PhD. They built the first version of the platform back in 1999. Turning it into a business back then was not possible, according to Panos, for two reasons:
the market was probably not ready yet and
they didn't have the experience they have today to do it.
Innovative entrepreneurship was unfamiliar to us, back then. We used to build innovative e-learning tools, publish the respective research papers and attend conferences. And that was it. Turning these ideas into a business was the missing step.
As he confessed, they never stopped being curious and inventive. They were looking for ways to turn their idea into real products that would be useful to people; that is, trainers and students out there.
A few years later, they came together — with knowledge on what constitutes state of the art e-learning — and that's how it all started.
Learnings and steps on the way to the top
Making the most out of what you already have
One of their initial ideas was to create educational content, themselves. They wanted to attract a few top trainers, to get started; but, they soon realized how difficult that was.
Without funding, without a track record, without brand awareness, it was extremely difficult to convince top trainers to trust our platform and share their content using it.
Realizing said difficulty, made them inventive; they decided to create their own content. They created their own courses for HTML5 and CSS3 — hot technologies, back in 2013, as Panos explained — and targeted the Greek market, selling their courses for $15.
All in all, choosing a small market, they were familiar with, helped them get a better understanding of how things work out there; and used those learnings to further adapt their venture.
We used our restricted budget to buy a proper Apple screen and a microphone; and we started creating our courses.
The studio they used for their recordings was an old warehouse that belonged to one of the founders.
There were no startup offices, no funding, no pinball machines or anything that would make us look like a proper startup,
according to Panos. 
Realizing customers have their own criteria on how they value your product
It didn't take them so long to find out that, while they were good scientists (PhDs), they weren't equally good entrepreneurs, Panos confessed.
We erroneously believed we could build a great platform and customers would be excited to use their credit cards to buy this great edutech platform."
The ugly truth is that customers don't judge your products based on academic criteria.
Customers have their own unique criteria on how they'll judge your product — it's your responsibility to discover these criteria and make sure you're compliant with them.
The risk of building a startup without customer development
They had created an extremely complicated platform, but they hadn't done any customer development. That was the reason their product kind of crashed against unverified customer needs. To add to that, neither had they verified there's a large enough serviceable obtainable market (SOM) out there. All they had focused on was building a great platform. A question worth answering, according to Panos, is who's going to buy your product and why?
Two years after their first launch, they were forced to cut a few things loose and make their platform simpler. There were things that were interesting in e-learning, but customers weren't interested at all. As expected, they had to downsize and reshape their platform, so that it would meet customer needs.
Using "early adopters" to refine their product (without even realizing it)
Their first customers — also known as early adopters — from the USA helped them with valuable feedback, in this direction. They started to actively listen to their target market and focus on the entrepreneurial aspect of their venture. That's when they finally started making any possible effort to learn and adapt to market signals.
Keep making tweaks to win your first customers
When you launch your webpage and there's no single trial user and, at the same time, there's no funding and no investors, things are very difficult, according to Panos. This can also make you more inventive, as to how you can improve your offering, to convince the first customer and then the second one and so on, to come on board. It takes some nerve to keep working this way without foreseeable progress.
As Panos confessed:
We had a strong drive. We believed in our idea and the value our platform would bring into the market; and that kept us working harder and harder, making any adaptations needed.
Struggling to get from 2 to 5 customers, then from 10 to 50, from 50 to 100 and so on. A team of 6 people all knew the first names of their customers. There was no structured customer support; the customers could just call them on their personal phone numbers and ask for help.
Make the most out of opportunities to learn
They participated in many competitions related to entrepreneurship.
That was an opportunity for us to pitch our platform and get feedback.
And, as Panos explained, it was that kind of feedback that helped them learn and improve their positioning and the messaging they would eventually use. They used to attend conferences, seminars and workshops on how to build a business model canvas. They managed to build their go-to-market strategy; which they had never prepared up till that moment in time.
These were also opportunities for their team to meet. And, all these were opportunities to become better, to learn new things. That's how they gradually managed to put the puzzle pieces (as in the different aspects of their business) in the right places.
Winning a prize of €1,000, at one of these competitions, served as validation for what they've been trying to achieve/venture. They finally got the indication that there's something that can make a difference; and that they should keep on working on it. The interesting part was that they used it for their marketing efforts and ran a Facebook campaign to promote their platform. According to Panos that was the 1st funding they got.
Investing in people
They finally managed to get their first 20-100 customers and used the revenues to grow their team.
We hired junior people. Junior developers that trusted us — probably entirely oblivious of the risks involved in working with a small team — were finally rewarded. They could have chosen others paths; the demand for people with a tech background was increased back then as it is today; but they didn't
As Panos acknowledged:
We were very lucky to invest in those people.
The same is also true for members of their team that today hold more senior roles. Back then, they took up roles they had no previous experience on. For example, we decided to hire people that had an academic degree, good English skills and were willing to learn the intricacies of customer support. And that proved to be a win-win situation, for both of these team members. They got their first role and managed to thrive in the company — and in other working environments, later on — as Panos shared.
They invested in us — an unknown company, back then — and we too invested in them. And we gradually managed to improve our company and help these people grow with us.
Let go of perfectionism and focus on increasing your release rate
Their background as engineers made them unsuitable for entrepreneurs, according to Panos. And that, for the simple reason that they were perfectionists; at least up to that point.
We wanted everything to work perfectly. We wanted to implement all the required automation in our product.
But that fortunately changed. They had to adapt to a new mentality:
Good enough is good enough.
Releasing a feature that might have a few minor bugs — that will be brushed out later — is just ok.
The release rate and the innovation you add is more important than flawless functionality,
according to Panos. 
That made them focus more on their beta releases. They started releasing features with a kind of hackathon mindset, in five days or so, between releases.
They still try to stick to this mentality, even today, with thousands of customers and millions of users. And, although that's not entirely feasible, they try to focus on the rapid improvement of their product. 
Perfectionism is no longer part of our DNA; we've learned that lesson,
said Panos.
Why the Greek and the European market is not fruitful
Another thing LearnWords learned the hard way, according to Panos, was that the Greek market is way too different from the global one. Their learnings:
During the crisis we had the chance to talk with huge organizations in Europe that were willing to invest in personnel training, only to find out that they had devoted a limited budget for their internal training. That made us realize that they weren't our target market.
That made them turn to other markets.
Customers in the USA are more eager to take risks and try a new product that shows potential. They are ready to give it a try and get the value they need for their business. That was an eye-opening finding for us,
shared Panos with us. 
It may even take three months for a European customer to make the decision to use your service — they need to test it thoroughly — whilst customers from the USA may make the same decision in less than 4-5 days. The USA market is a mature market. Customers are ready to take risks and try new products — mostly SaaS — and that's the market LearnWorlds focuses on.
Start focusing on numbers
They gradually became more conscious of the value of numbers; and that helped focus on questions that were worth answering:
Where did that customer come from?
How much time did that user spend on our site?
What is our conversion rate?
That's the value of SaaS businesses. If you manage to strike an at least 1% improvement on different aspects of your business, it does make a difference over time.
If you manage to improve your conversion rate by 1% and your advertisement's efficiency by another 1%, you'll respectively manage to improve your revenues."
And that's the so-called compound effect. That learning was a turning point for LearnWorlds, as Panos confessed:
When we realized how things work, we started focusing on that aspect, wholeheartedly.
From data-driven to results-driven decisions
Up to that moment, they'd been setting up product trials by hand.
In the beginning we had 3 trials a month, then it became 2 trials a week, then it became 4 trials a day and so on.
That's when they realized that this works dynamically; and they could have hundreds of trials a day.
That was a learning experience for us' and we try to be as much data-driven as we can. We try to turn numbers into facts. We make assumptions and test things; that is, we work as scientists with regard to numbers. In essence, we are results-driven
Dimitris Tsingos, CEO at Starttech, commented on the compound effect:
When co-founders at SaaS businesses realize the value of the compound effect, that's when the engine starts to work.
On remote working
The LearnWords company was working remotely, right from the beginning. That goes to say, the pandemic made no difference in the way they work as a team. They already had two offices in Chania and in Cyprus. Today, 70% of their team works remotely. That gives them the leeway to hire new talent, based on skills.
There's flexibility in the working hours of their employees; they may adapt it to their needs. To make things work, it takes a lot of communication, they probably need to repeat and explain using chat channels. Many SaaS companies are already there; and probably that's how things will work from now on.
The scale up pattern
Entrepreneurship is not a marathon, not a sprint — in Paul Graham's words. If you manage to keep your business alive, you'll manage to get a bit closer to your goal, day-by-day.
We were stubborn and kept our business alive making the most out of our limited resources. We were obsessed with our effort to make it a little better, day by day.
Surely, they have — above and beyond — ticked the box of having skin in the game. And that is something we have seen in all scale-up stories up till now, according to Dimitris:
A team of co-founders that is obsessed with their solution idea. A team that has the drive to turn their idea into a business and build something brilliant. And that drive comes regardless of the decision or the "approval" of an investor. That's a powerful pattern we see in all the scale-ups that thrive here, in Greece, and all over the world.
Well! That was the second part of a series of articles we devoted to our 5th scale-up Greece event. Stay tuned for the third and final part!